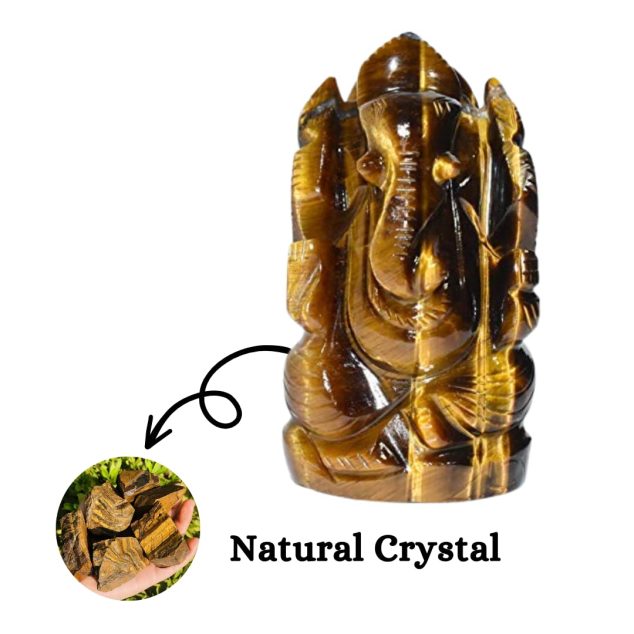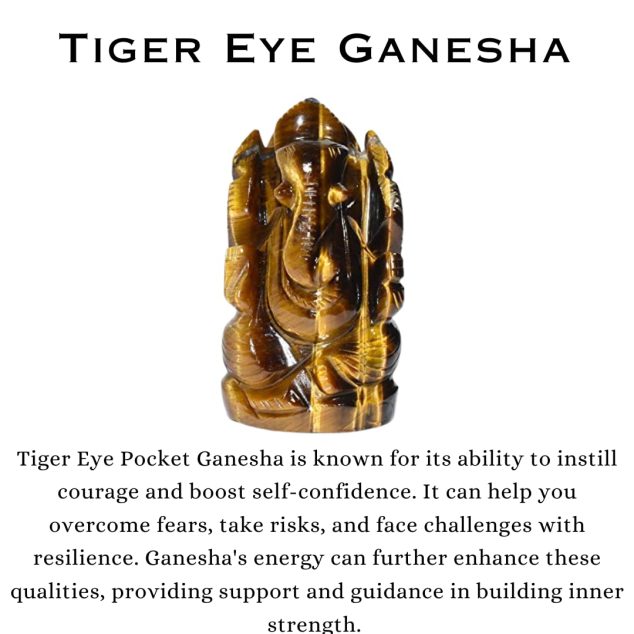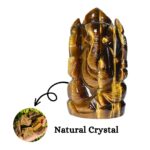 58
people are viewing this right now

Guaranteed safe & secure checkout
Description
The Tiger Eye Pocket Ganesha is a petite Ganesha statue made from the bold tiger eye gemstone. Renowned for its protective and grounding qualities, tiger eye is a stone of courage and insight. When combined with Ganesha, known for wisdom and removing obstacles, this figurine becomes a potent symbol of bravery, clarity, and determination. It's the perfect companion for anyone aiming to bolster their confidence and tackle challenges with a clear vision.
Benefits Of Tiger Eye Pocket Ganesha
Boosted Confidence: Tiger eye is a stone that naturally enhances self-belief and courage.
Protection: Helps shield you from negative energies and keeps you grounded.
Clear Decision Making: Encourages clarity of thought, aiding in making wise choices.
Motivation: Spurs you to take action and move forward in life.
Overcome Challenges: With Ganesha's obstacle-removing essence, face hurdles with ease.
Enhanced Focus: Helps you concentrate on tasks and avoid distractions.
Emotional Balance: Keeps you calm in tense situations and ensures emotional well-being.
With a Tiger Eye Pocket Ganesha in hand, you're better equipped to stride confidently in life, overcoming obstacles and pursuing your goals with clear vision.


How To Use Tiger Eye Pocket Ganesha?
Pocket Protector: Carry it with you in your pocket or bag, harnessing its protective and grounding energies throughout the day.
Workspace Enhancer: Keep it on your office desk to boost concentration, clarity, and confidence during work.
Meditation Aid: Hold the Ganesha while meditating to deepen your connection to its grounding energy and insights.
Travel Buddy: Take it with you on trips for protection and to stay focused on your journey.
Home Sanctuary: Place it in a special corner of your home, infusing the space with courage and calm.
Gifting Good Vibes: Share its strength and protection by gifting it to a loved one who may need a confidence boost.
Nightstand Guardian: Rest it beside your bed for peaceful sleep and waking up with renewed courage.
The Tiger Eye Pocket Ganesha is a resilient charm, offering a mix of protection, clarity, and motivation wherever you choose to use it.
Return/Refund Policy
Our return policy lasts for 5 days from the date of delivery. Kindly contact us for any return/refund/exchange within 5 days from the date of delivery.
Return policy is applicable in case of damaged/defective items only.
Item must be unused & packed in original packaging.
Item will be inspected before processing the refund/exchange.
To initiate your return & exchange please send us an email at support@crystaldivine.in with your order receipt and details of the products to be returned. Please also let us know the reason for the return. Your complaints will only be taken into consideration if contacted by email. (WhatsApp / Phone Calls etc. will not be considered as complaint channels).
Upon receiving the returned products, prepaid orders will be refunded as soon as our inspection team approves the return.
COD orders: Customers will be required to provide their bank details where they would like to receive the refund.
Click to Learn more about our return and exchange policy.
Shipping Policy
We aim to dispatch all orders within 24-48 hours. In case of missing items/ unavailability or delay, we will inform you via email or WhatsApp with the expected date of dispatch.
Most orders are delivered by our courier partners within 5-7 working days from the date of dispatch.
Shipping is free on paid orders above ₹1000.
There are no question found.