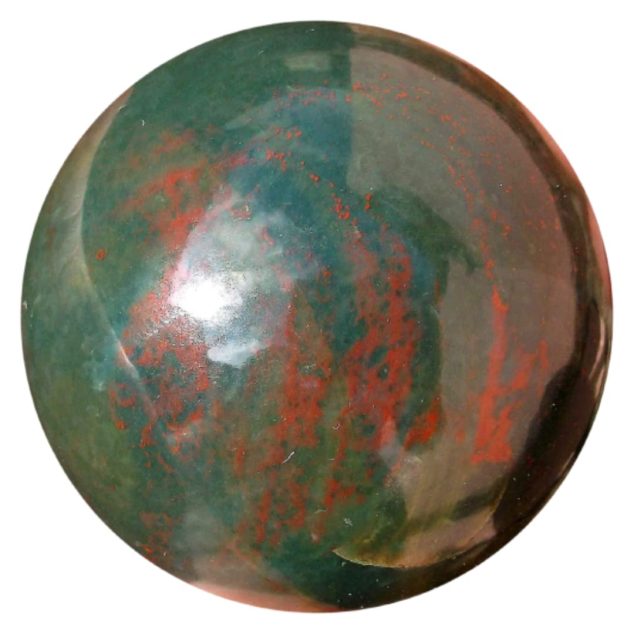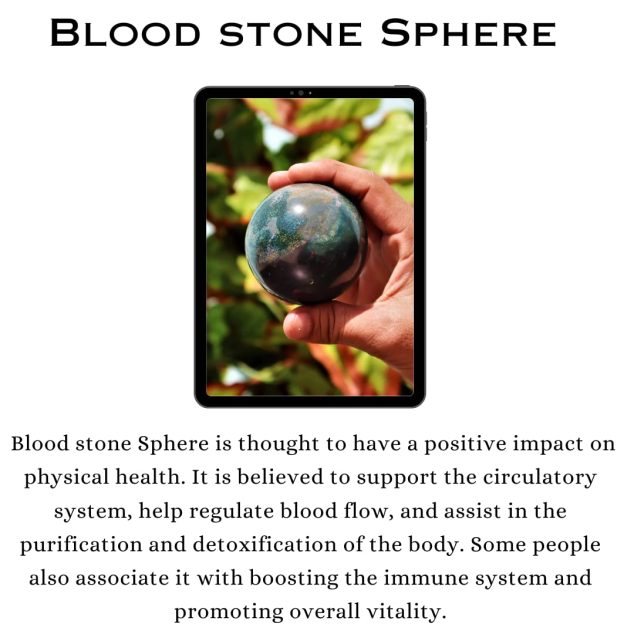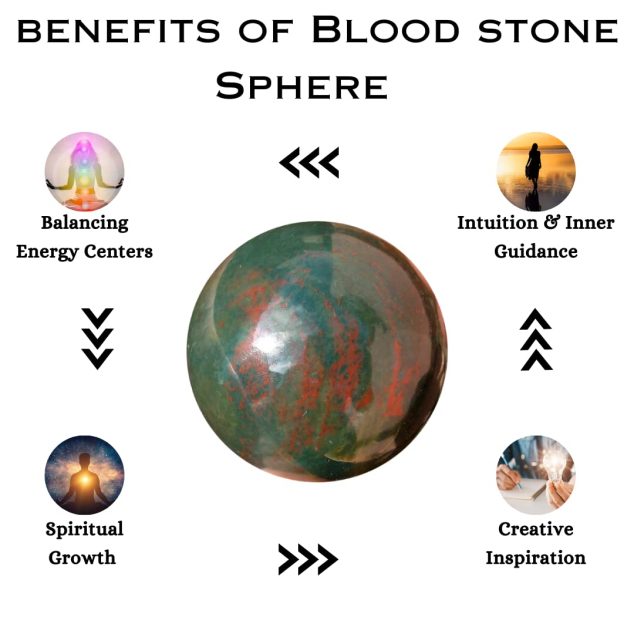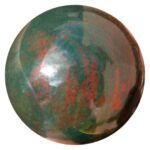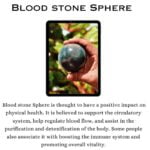 60
people are viewing this right now

Guaranteed safe & secure checkout
Description
The Bloodstone Sphere is a unique crystal item, boasting a deep green color with distinct red flecks. These specks of red, resembling drops of blood, are what give this stone its name and unique appearance. Beyond its physical attributes, the Bloodstone Sphere is a powerful tool known for its invigorating energy.
Crafted from high-quality Bloodstone, each sphere is meticulously polished to achieve a flawless, round shape. This form helps in the even distribution of the crystal's energy, making the Bloodstone Sphere an effective tool in crystal healing and meditation practices.
The Bloodstone Sphere can become a special addition to any crystal collection or a thoughtful gift for those who value the healing properties of stones. Whether you are a seasoned crystal enthusiast or a beginner, the captivating presence of a Bloodstone Sphere can truly enhance your crystal journey.


Benefit Of Bloodstone Sphere
The Bloodstone Sphere carries several potential benefits:
Energy Revitalization: Bloodstone is reputed to renew and revitalize your energy. The sphere, with its even energy distribution, can provide a constant source of invigorating energy.

Courage and Strength: Bloodstone is associated with courage, determination, and resilience. Having a Bloodstone Sphere close by may help instill these qualities.

Health Support: Bloodstone is commonly connected with physical well-being. It's considered supportive for blood-related issues, and it's used as a booster for the immune system.

Grounding: As an Earth element stone, Bloodstone provides grounding energy. The sphere form, representing unity and completeness, enhances this grounding effect.

Emotional Balance: The Bloodstone Sphere may assist in balancing emotions, providing clarity and emotional stability during challenging times.

Enhances Decision Making: Bloodstone can provide clarity and improve decision-making abilities, aiding you to make choices that are beneficial to your personal journey.
Remember, each person's experience with a crystal can be different, and these potential benefits may vary based on individual needs and circumstances.
How To Use Bloodstone Sphere
Using a Bloodstone Sphere can be simple and enjoyable. Here are a few steps to guide you:
Place it in your living space: One of the easiest ways to use a Bloodstone Sphere is by placing it in your living or working space. This can help create a balanced and harmonious environment, filled with the stone's grounding energy.

Meditation: Hold the Bloodstone Sphere while meditating to benefit from its revitalizing and grounding energy. Its shape is perfect for holding in your hands, and it can aid in creating a deeper connection during your meditation sessions.

Carry it with you: You can also carry the Bloodstone Sphere with you throughout the day. Keep it in your bag or pocket to continually benefit from its energy.

Use for Focus and Clarity: If you're working on a task that requires focus, place the Bloodstone Sphere on your desk. Its energy can aid in boosting your concentration and decision-making abilities.

Bedtime Routine: Placing the Bloodstone Sphere on your bedside table or under your pillow can help create a calming atmosphere for a restful sleep.

Chakra Healing: The Bloodstone Sphere can also be used in chakra healing practices, particularly for balancing the root chakra.
Always remember to cleanse your Bloodstone Sphere regularly to maintain its energy. The methods of cleansing can vary from running it under cold water, smudging with sage, or leaving it out under the moonlight.
Remember that the effects can differ from person to person, so it's important to find a method that resonates with you.
Return/Refund Policy
Our return policy lasts for 5 days from the date of delivery. Kindly contact us for any return/refund/exchange within 5 days from the date of delivery.
Return policy is applicable in case of damaged/defective items only.
Item must be unused & packed in original packaging.
Item will be inspected before processing the refund/exchange.
To initiate your return & exchange please send us an email at support@crystaldivine.in with your order receipt and details of the products to be returned. Please also let us know the reason for the return. Your complaints will only be taken into consideration if contacted by email. (WhatsApp / Phone Calls etc. will not be considered as complaint channels).
Upon receiving the returned products, prepaid orders will be refunded as soon as our inspection team approves the return.
COD orders: Customers will be required to provide their bank details where they would like to receive the refund.
Click to Learn more about our return and exchange policy.
Shipping Policy
We aim to dispatch all orders within 24-48 hours. In case of missing items/ unavailability or delay, we will inform you via email or WhatsApp with the expected date of dispatch.
Most orders are delivered by our courier partners within 5-7 working days from the date of dispatch.
Shipping is free on paid orders above ₹1000.
There are no question found.