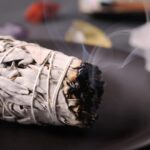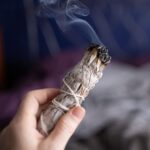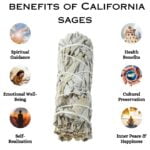 California Sage Pack Of 1
72
people are viewing this right now

Guaranteed safe & secure checkout
Description
White Sage, often referred to as California Sage, is a plant native to the Southwestern United States. Known for its strong, aromatic scent and beautiful white-grey leaves, this sage has been used for centuries by Native American tribes in traditional rituals and ceremonies. Today, it's often used in a process called smudging, which involves burning the sage to create a cleansing smoke. This smoke is said to purify spaces, objects, and even people, helping to dispel negativity and invite in positivity and peace. Whether used in a home or a workspace, a White Sage smudge stick can help create a serene and uplifting atmosphere.


Benefits Of California Sage
California Sage, also known as White Sage, is highly regarded for its beneficial properties, including:
Space Cleansing: Burning California Sage (smudging) is believed to cleanse and purify a space, removing any negative energies.

Enhancing Mood: The aroma of California Sage has a calming effect and can help reduce stress and anxiety, promoting a sense of peace and relaxation.

Enhancing Focus: The scent of California Sage is also known to help enhance focus and clarity, aiding in meditation and concentration.

Aiding Sleep: Smudging with California Sage before bedtime can help promote a more restful sleep, as it creates a calm and peaceful environment.

Boosting Energy Levels: Some people find that smudging with California Sage can help to invigorate their energy levels, promoting a sense of positivity and motivation.
How To Use California Sage?
Using California Sage, or White Sage, for smudging is a simple process. Here's how you can do it:
Find a safe place: Choose a location that is well-ventilated and safe from flammable materials.

Light the Sage: Hold the California Sage at a 45-degree angle, light the tip and let it burn for about 20-30 seconds. After that, blow out the flame and allow the smoke to rise.

Smudge your space: Walk around the room, office, or wherever you wish to cleanse, allowing the smoke to reach each corner. Some people like to use a feather or a fan to help spread the smoke, but your hand can work just as well.

Set an intention: As you're doing this, focus on the purpose of your smudging. You can say a small affirmation or intention such as "I cleanse this space of any negativity and fill it with light and positivity."

Extinguish safely: When you're done, safely extinguish the Sage by pressing it into a fireproof bowl, sand, or shell. It's important never to leave burning sage unattended.
Remember, it's essential to treat this process with respect. After all, smudging with California Sage is a practice rooted in various indigenous cultures. And it's always a good idea to keep your space ventilated when smudging to avoid inhaling too much smoke.
Return/Refund Policy
Our return policy lasts for 5 days from the date of delivery. Kindly contact us for any return/refund/exchange within 5 days from the date of delivery.
Return policy is applicable in case of damaged/defective items only.
Item must be unused & packed in original packaging.
Item will be inspected before processing the refund/exchange.
To initiate your return & exchange please send us an email at support@crystaldivine.in with your order receipt and details of the products to be returned. Please also let us know the reason for the return. Your complaints will only be taken into consideration if contacted by email. (WhatsApp / Phone Calls etc. will not be considered as complaint channels).
Upon receiving the returned products, prepaid orders will be refunded as soon as our inspection team approves the return.
COD orders: Customers will be required to provide their bank details where they would like to receive the refund.
Click to Learn more about our return and exchange policy.
Shipping Policy
We aim to dispatch all orders within 24-48 hours. In case of missing items/ unavailability or delay, we will inform you via email or WhatsApp with the expected date of dispatch.
Most orders are delivered by our courier partners within 5-7 working days from the date of dispatch.
Shipping is free on paid orders above ₹1000.
There are no question found.