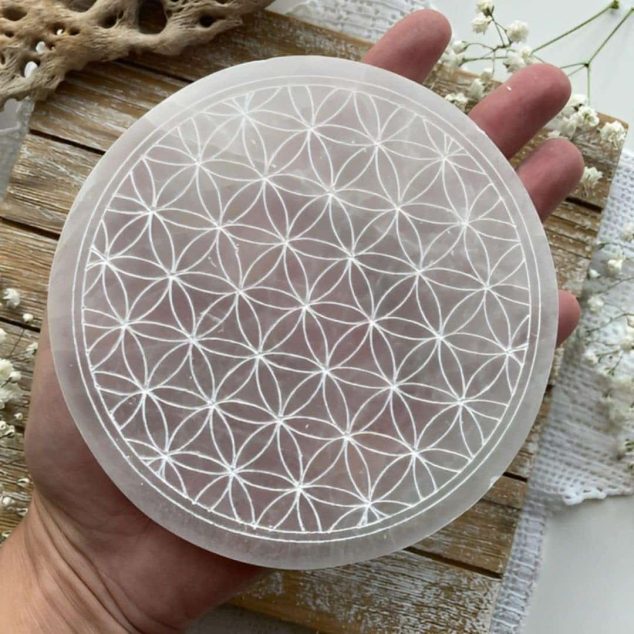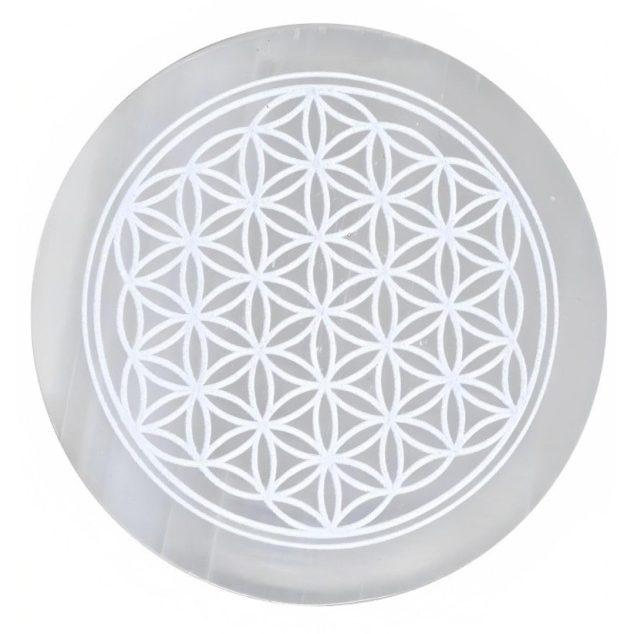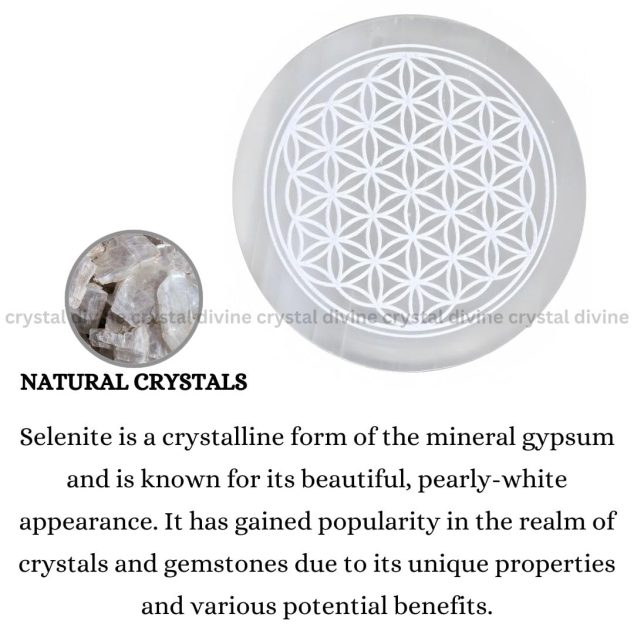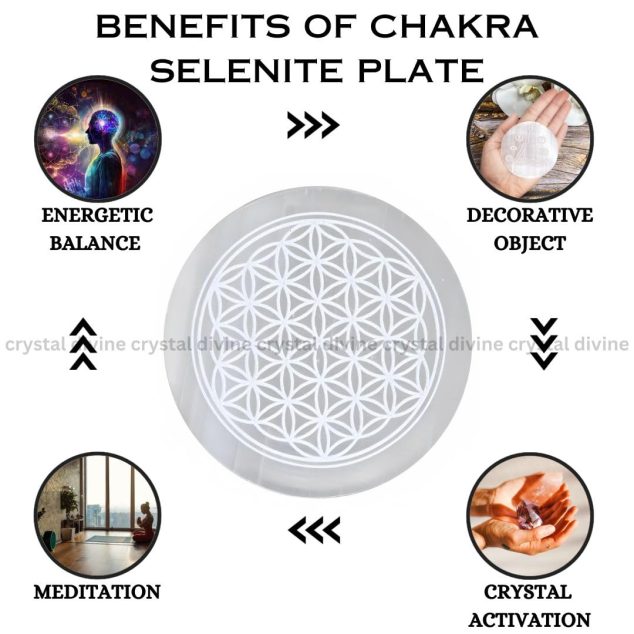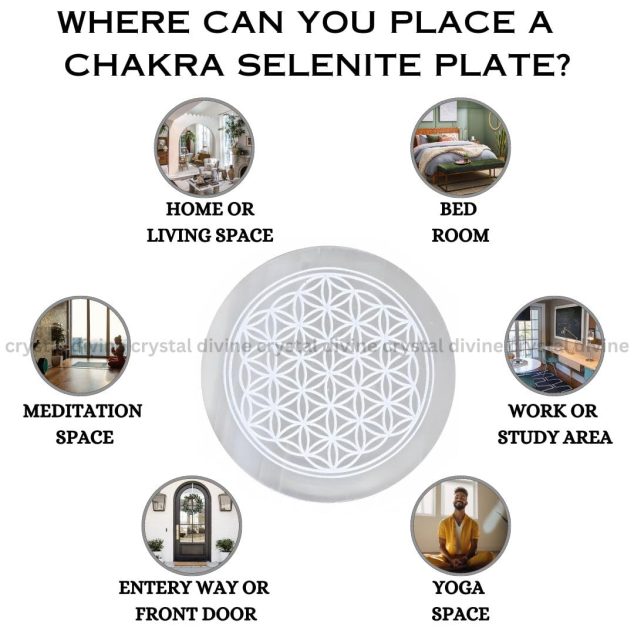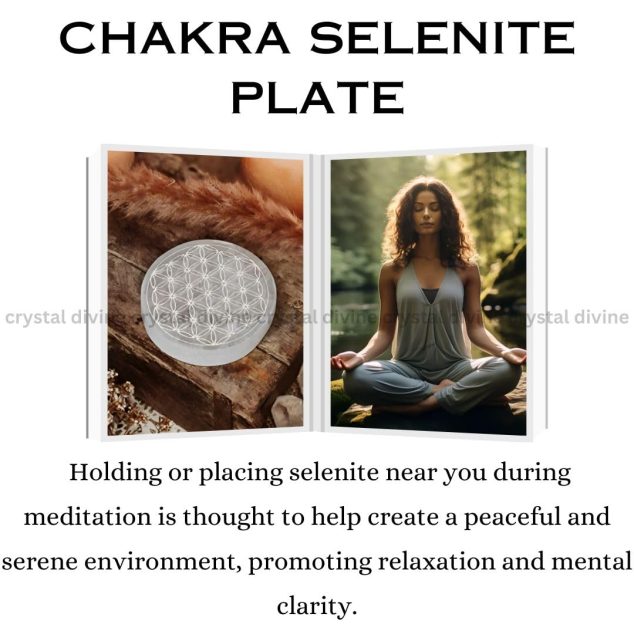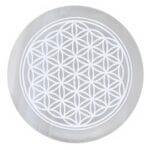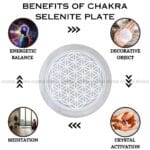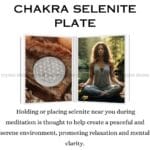 Flower Of Life Symbol Selenite Charging Plate
70
people are viewing this right now

Guaranteed safe & secure checkout
Description
Flower Of Life Symbol Selenite Charging Plate
Dive into the timeless beauty and ancient wisdom with the Flower of Life Symbol Selenite Charging Plate. This special plate, engraved with the age-old geometric pattern known as the Flower of Life, embodies unity, wholeness, and the interconnectedness of all life. Paired with the luminous and pure energy of selenite, this plate isn't just a captivating piece of art but a profound spiritual ally.


Benefits Of Flower Of Life Symbol Engraved Selenite Charging Plate:
Symbol of Universal Connection: The Flower of Life symbol is a representation of everything being linked and interwoven. When combined with selenite's energy, it amplifies feelings of unity and togetherness.
Potent Cleansing Abilities: Selenite, known for its purification properties, combined with the sacred geometry of the Flower of Life, offers deep energetic cleansing, removing negativity and stagnation.
Empowered Meditation: Introducing this plate into your meditation practices can lead to deeper insights, promoting spiritual growth and understanding of life's intricacies.
Charging with Intention: Beyond its cleansing prowess, the plate charges items placed upon it with the resonant energy of unity and interconnectedness, making it perfect for crystals, talismans, or spiritual jewelry.
Decorative Elegance: With the intricate design of the Flower of Life, it doubles as a stunning decor piece, radiating harmony and balance in any environment.
How To Use Flower Of Life Symbol Selenite Charging Plate?
Creating Sacred Space: Find a quiet, serene spot for your plate. A dedicated space amplifies its abilities and the energies it radiates.
Charging Ritual: Place your spiritual items or crystals on the plate, allowing them to bask in its energies, preferably for several hours or overnight.
Deepening Meditative Sessions: Position the plate within your line of sight during meditation, using the Flower of Life pattern as a focal point to guide and deepen your sessions.
Energetic Environment Boost: By simply having the plate in your living or workspace, it constantly emits its harmonizing energies, enhancing the space's vibe.
Caring for Your Plate: Being sensitive to water, it's best to cleanse selenite using moonlight or smudging methods.


Let the Flower of Life Selenite Charging Plate be your beacon to understanding the infinite connections of the universe, all the while providing your space with unmatched elegance and serenity.
Return/Refund Policy
Our return policy lasts for 5 days from the date of delivery. Kindly contact us for any return/refund/exchange within 5 days from the date of delivery.
Return policy is applicable in case of damaged/defective items only.
Item must be unused & packed in original packaging.
Item will be inspected before processing the refund/exchange.
To initiate your return & exchange please send us an email at support@crystaldivine.in with your order receipt and details of the products to be returned. Please also let us know the reason for the return. Your complaints will only be taken into consideration if contacted by email. (WhatsApp / Phone Calls etc. will not be considered as complaint channels).
Upon receiving the returned products, prepaid orders will be refunded as soon as our inspection team approves the return.
COD orders: Customers will be required to provide their bank details where they would like to receive the refund.
Click to Learn more about our return and exchange policy.
Shipping Policy
We aim to dispatch all orders within 24-48 hours. In case of missing items/ unavailability or delay, we will inform you via email or WhatsApp with the expected date of dispatch.
Most orders are delivered by our courier partners within 5-7 working days from the date of dispatch.
Shipping is free on paid orders above ₹1000.
There are no question found.