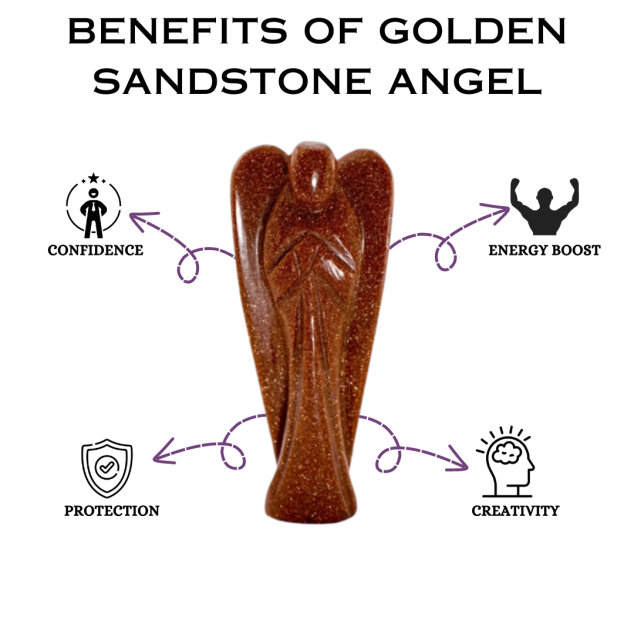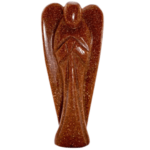 88
people are viewing this right now

Guaranteed safe & secure checkout
Description
A Golden Sandstone Angel is a beautiful object carved from the vibrant and sparkly Golden Sandstone. Known for its brilliant sheen and warm, golden hues, this stone is said to be a symbol of creativity, ambition, and positivity.
This golden angel figurine isn't just a beautiful piece of art, but also a tool used by those who believe in the power of crystals. The angel shape is believed to amplify the properties of the Golden Sandstone, bringing in its light-bearing qualities.
The Golden Sandstone Angel makes a great companion, whether it's kept in your home, at your workplace, or carried in your pocket. People often connect with it for its uplifting energy and the belief that it promotes a positive mindset.


Benefits Of Golden Sandstone Angel
Golden Sandstone, the material from which the Golden Sandstone Angel is made, is linked with various potential benefits:
Boosting Positivity: Golden Sandstone is often associated with uplifting energies and positivity. Having a Golden Sandstone Angel nearby could help promote a cheerful and positive atmosphere.

Enhancing Creativity: The stone is believed to stimulate the wearer's creativity and innovative thinking, making it an ideal companion for artists, writers, and anyone involved in creative fields.

Encouraging Ambition: The energy of Golden Sandstone is said to inspire ambition and motivation, making it potentially beneficial for those working towards goals or seeking motivation in their personal or professional lives.

Attracting Abundance: Some believe that Golden Sandstone can attract wealth and abundance, making the Golden Sandstone Angel a symbol of prosperity.

Promoting Balance: Golden Sandstone is also associated with balance and stability, both emotionally and mentally. Having a Golden Sandstone Angel might help one to stay grounded in tumultuous times.
Remember, the effects can differ from person to person, and the experience can be very personal. So, it's about finding what works best for you.


How To Use Golden Sandstone Angel?
Using a Golden Sandstone Angel is relatively straightforward and can be incorporated into your daily routine with ease. Here's a simple guide on how to use it:
Meditation: During meditation, hold the Golden Sandstone Angel in your hands. The thought is that this can help you connect with the angel's energy, promoting positivity and creativity.

Carrying It With You: You can carry the Golden Sandstone Angel in your pocket or purse wherever you go. Its presence can act as a constant source of motivation and a reminder of your goals.

Home Decoration: Place the Golden Sandstone Angel in a space where you spend a lot of time. It can be a lovely piece of décor, and at the same time, its presence can uplift the energy of your space.

Setting Intentions: Take a quiet moment to hold the angel and set your intentions or goals. This could help in manifesting your ambitions and desires.
Remember to cleanse the Golden Sandstone Angel periodically to keep its energy fresh and potent. You can do this by running it under lukewarm water or leaving it under the moonlight overnight. Always handle the angel with care and respect for the best results.
Return/Refund Policy
Our return policy lasts for 5 days from the date of delivery. Kindly contact us for any return/refund/exchange within 5 days from the date of delivery.
Return policy is applicable in case of damaged/defective items only.
Item must be unused & packed in original packaging.
Item will be inspected before processing the refund/exchange.
To initiate your return & exchange please send us an email at support@crystaldivine.in with your order receipt and details of the products to be returned. Please also let us know the reason for the return. Your complaints will only be taken into consideration if contacted by email. (WhatsApp / Phone Calls etc. will not be considered as complaint channels).
Upon receiving the returned products, prepaid orders will be refunded as soon as our inspection team approves the return.
COD orders: Customers will be required to provide their bank details where they would like to receive the refund.
Click to Learn more about our return and exchange policy.
Shipping Policy
We aim to dispatch all orders within 24-48 hours. In case of missing items/ unavailability or delay, we will inform you via email or WhatsApp with the expected date of dispatch.
Most orders are delivered by our courier partners within 5-7 working days from the date of dispatch.
Shipping is free on paid orders above ₹1000.
There are no question found.