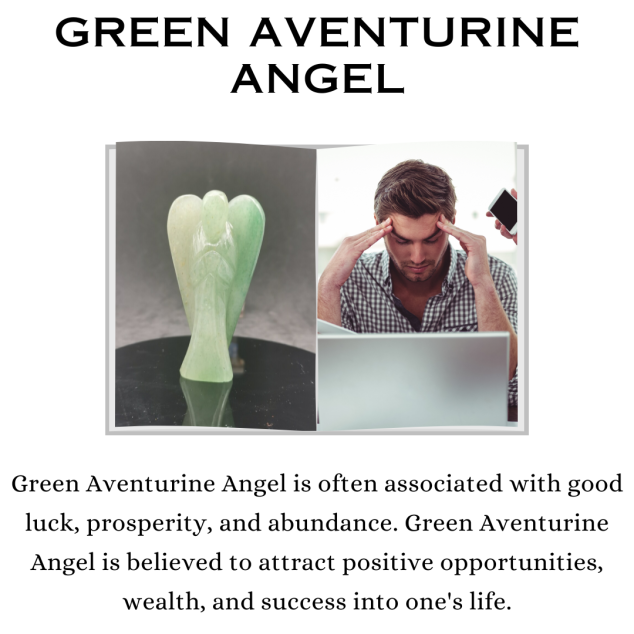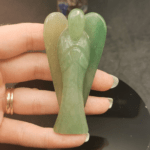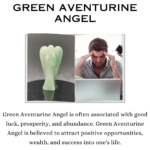 78
people are viewing this right now

Guaranteed safe & secure checkout
Description
A Green Aventurine Angel is a beautifully carved figure made from Green Aventurine, a type of quartz mineral that has a shimmering or glistening effect, often referred to as aventurescence. Its soothing green color is eye-catching and often associated with nature, wellness, and vitality.
Green Aventurine is known as the "Stone of Opportunity," reputed to be one of the most powerful crystals for manifesting prosperity, wealth, and career success. It is also believed to promote a sense of well-being and emotional calm.
The angel shape of the Green Aventurine Angel adds an extra layer of symbolism, often associated with protection, guidance, and love. This combination makes it an ideal piece for those seeking success, tranquility, and positive energies in their lives.


Benefits Of Green Aventurine Angel
The Green Aventurine Angel brings several potential benefits to its user:
Prosperity: Green Aventurine is often known as the "Stone of Opportunity," and it's used by people hoping to boost their chances of success, especially in financial or career matters.

Emotional Calm: The soothing energy of Green Aventurine can help bring peace and stability to your emotional state, reducing stress and anxiety.

Positive Energy: Green Aventurine is believed to attract positive energy and eliminate any negativity, enhancing one's well-being and creating a positive atmosphere around them.

Healing: This stone is said to support physical healing, especially concerning the heart, and promote a sense of overall well-being.

Enhanced Creativity: It's believed that Green Aventurine can stimulate creativity and increase one's motivation, making it a great stone for artists, writers, and anyone in a creative field.
Remember, these benefits come from traditions and interpretations of crystal usage and are to be appreciated as part of individual belief systems. The Green Aventurine Angel offers a physical touchstone to these concepts, serving as a reminder of our potential and the positive energy we can attract.


How To Use Green Aventurine Angel?
Using a Green Aventurine Angel is straightforward and can be tailored to your personal preferences and routines. Here are some simple steps you can follow:
Carry it with you: You can carry the Green Aventurine Angel in your pocket or bag, bringing its positive energy wherever you go. It can serve as a reminder of your intentions and goals.

Place it in your space: You can place the Green Aventurine Angel in your home or workspace. Some people like to put it in a place where they will see it often, like on a desk or a bedside table. This can help to fill the space with its calming, prosperous energy.

Use it in meditation: You can hold the Green Aventurine Angel in your hand while meditating. This can help you to focus your mind and enhance the meditation experience.

Set intentions: You can hold the angel and set your intentions or goals. Some people find that expressing their hopes and dreams to the angel helps them feel more focused and committed.

Gift it to someone: The Green Aventurine Angel can be a meaningful gift, signifying wishes for prosperity, luck, and positivity for the receiver.
Remember, there is no wrong way to use a Green Aventurine Angel. It's all about what feels right to you and what matches your personal beliefs and practices. Enjoy your journey with this beautiful and beneficial stone.
Return/Refund Policy
Our return policy lasts for 5 days from the date of delivery. Kindly contact us for any return/refund/exchange within 5 days from the date of delivery.
Return policy is applicable in case of damaged/defective items only.
Item must be unused & packed in original packaging.
Item will be inspected before processing the refund/exchange.
To initiate your return & exchange please send us an email at support@crystaldivine.in with your order receipt and details of the products to be returned. Please also let us know the reason for the return. Your complaints will only be taken into consideration if contacted by email. (WhatsApp / Phone Calls etc. will not be considered as complaint channels).
Upon receiving the returned products, prepaid orders will be refunded as soon as our inspection team approves the return.
COD orders: Customers will be required to provide their bank details where they would like to receive the refund.
Click to Learn more about our return and exchange policy.
Shipping Policy
We aim to dispatch all orders within 24-48 hours. In case of missing items/ unavailability or delay, we will inform you via email or WhatsApp with the expected date of dispatch.
Most orders are delivered by our courier partners within 5-7 working days from the date of dispatch.
Shipping is free on paid orders above ₹1000.
There are no question found.