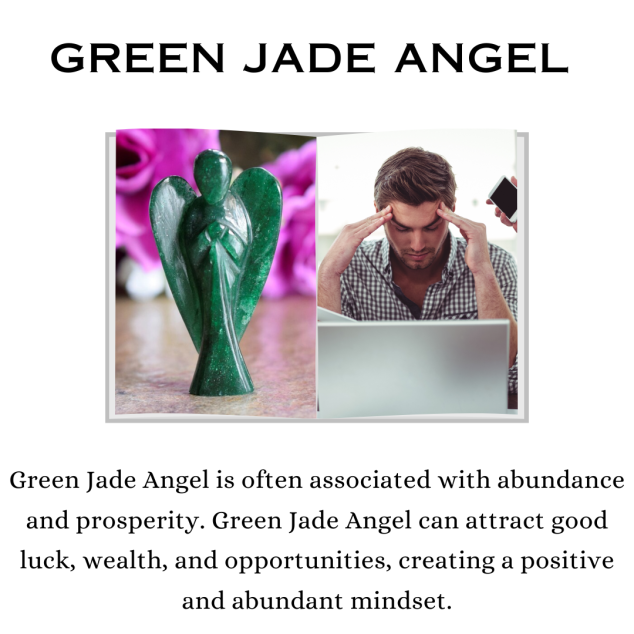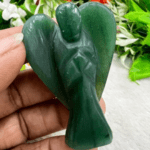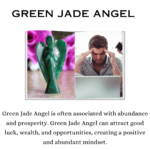 55
people are viewing this right now

Guaranteed safe & secure checkout
Description
The Green Jade Angel is a delightful piece that represents the celestial guardian, carved from green jade, a crystal known for its healing properties. The angel's form is elegant and soothing, embodying a sense of peace and tranquility. The smooth finish highlights the natural variations in the color of the jade, making each piece unique. This little angel is not just an attractive piece of décor, but it's also a tangible symbol of protection and serenity, carrying the nurturing energy of green jade. From supporting harmony in relationships to attracting good luck and abundance, this angel brings the best of green jade in a divine, aesthetic form.


Benefits Of Green Jade Angel
The Green Jade Angel offers a number of potential benefits:
Harmony and Balance: Green Jade is known for bringing harmony and balance to your life. It's said to help promote peaceful interactions and reduce conflicts.
Luck and Wealth: Many people associate Green Jade with good luck and prosperity. It might help attract opportunities for growth and abundance.
Emotional Healing: Green Jade is thought to have a soothing energy that can aid in emotional healing, helping to eliminate negativity and encourage feelings of love and happiness.
Protection: In the form of an angel, the Green Jade is believed to offer protection, guarding against harm and warding off negative energies.
Heart Chakra Healing: Green Jade is associated with the heart chakra, and its energy is believed to aid in opening and balancing this chakra, promoting emotional wellbeing and enhancing love and compassion.
Remember that the impact of crystals can vary from person to person, and it's always important to choose the ones that resonate with you most strongly.
How To Use Green Jade Angel?
Using a Green Jade Angel is a simple process:
Hold During Meditation: During meditation, hold the Green Jade Angel in your hand. This can help focus your intention and energy on balance, harmony, and attracting luck.

Place in Living Space: Place your Green Jade Angel in a central living space, such as your living room or bedroom. This can help distribute the positive energy throughout your home.

Carry it With You: Carry the Green Jade Angel in your bag or pocket throughout your day. This can allow you to draw on its balancing energy whenever you need to.

Use as a Focus for Affirmations: You can also use your Green Jade Angel as a focus point when reciting affirmations. This can help to reinforce your intentions and make them more potent.
Remember to cleanse and charge your Green Jade Angel regularly to ensure it's able to work at its full potential. To cleanse it, you can smudge it with sage or place it under the moonlight. To charge it, place it in sunlight or bury it in the earth overnight.
Return/Refund Policy
Our return policy lasts for 5 days from the date of delivery. Kindly contact us for any return/refund/exchange within 5 days from the date of delivery.
Return policy is applicable in case of damaged/defective items only.
Item must be unused & packed in original packaging.
Item will be inspected before processing the refund/exchange.
To initiate your return & exchange please send us an email at support@crystaldivine.in with your order receipt and details of the products to be returned. Please also let us know the reason for the return. Your complaints will only be taken into consideration if contacted by email. (WhatsApp / Phone Calls etc. will not be considered as complaint channels).
Upon receiving the returned products, prepaid orders will be refunded as soon as our inspection team approves the return.
COD orders: Customers will be required to provide their bank details where they would like to receive the refund.
Click to Learn more about our return and exchange policy.
Shipping Policy
We aim to dispatch all orders within 24-48 hours. In case of missing items/ unavailability or delay, we will inform you via email or WhatsApp with the expected date of dispatch.
Most orders are delivered by our courier partners within 5-7 working days from the date of dispatch.
Shipping is free on paid orders above ₹1000.
There are no question found.