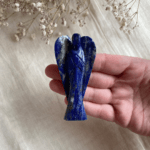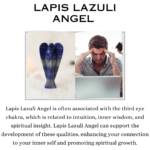 84
people are viewing this right now

Guaranteed safe & secure checkout
Description
The Lapis Lazuli Angel is a beautiful, hand-carved piece made from lapis lazuli, a deep blue gemstone speckled with gold. Lapis lazuli has been cherished for centuries, even as far back as the ancient Egyptians, for its rich color and the belief that it carries special properties.
This particular piece, shaped into an angel, gives it a special touch. It's not just a simple stone but an emblem representing protection, comfort, and guidance. This makes it a meaningful gift for yourself or loved ones, serving as a symbol of support and a reminder of inner strength and tranquility.
Whether you're drawn to the Lapis Lazuli Angel for its beauty, its symbolic significance, or its reputed properties, it's an item that can bring a unique touch to any space, while also fitting perfectly into the palm of your hand.


Benefits Of Lapis Lazuli Angel
Lapis Lazuli Angels offer several potential benefits:
Inner Peace: They're associated with creating and maintaining a state of inner peace and serenity. Using a Lapis Lazuli Angel can help release stress and anxiety.

Self-expression: These Angels encourage honesty and help you to express your thoughts and feelings openly.

Enhanced Intellectual Ability: Lapis Lazuli is linked to enhanced intellectual abilities. It can stimulate the desire for knowledge, truth, and understanding.

Emotional Healing: They can support emotional healing, especially for those who have experienced trauma or are dealing with depression.

Spiritual Connection: The angelic shape of the Lapis Lazuli piece is a reminder of your spiritual goals and the protection and guidance available from higher realms.
Remember, the experience with these Angels can vary from person to person. If you feel drawn to the Lapis Lazuli Angel, explore more about it and its potential benefits.


How To Use Lapis Lazuli Angel?
Using a Lapis Lazuli Angel is simple and can be adapted to suit your personal preferences and routines. Here's a basic way to use it:
Hold it: Start by holding the Lapis Lazuli Angel in your hand. The act of holding it can be calming and comforting. Feel its texture and weight.

Meditate: If you meditate, you can hold the Lapis Lazuli Angel during your meditation sessions. It can help focus your mind and deepen your meditation.

Set Intentions: You can use your Lapis Lazuli Angel to set intentions or goals. Hold the Angel, close your eyes and clearly envision your goal or intention.

Place it in your space: You can place the Lapis Lazuli Angel in your living space, work area, or even carry it with you. Having it near you can serve as a visual reminder of your intentions and provide a sense of calm and protection.

Cleanse and Recharge: Like all crystals, the Lapis Lazuli Angel should be cleansed and recharged regularly. You can do this by placing it under the light of the moon or sun, or using smudging methods with herbs like sage.
Remember to listen to your intuition and use the Lapis Lazuli Angel in a way that feels right for you.
Return/Refund Policy
Our return policy lasts for 5 days from the date of delivery. Kindly contact us for any return/refund/exchange within 5 days from the date of delivery.
Return policy is applicable in case of damaged/defective items only.
Item must be unused & packed in original packaging.
Item will be inspected before processing the refund/exchange.
To initiate your return & exchange please send us an email at support@crystaldivine.in with your order receipt and details of the products to be returned. Please also let us know the reason for the return. Your complaints will only be taken into consideration if contacted by email. (WhatsApp / Phone Calls etc. will not be considered as complaint channels).
Upon receiving the returned products, prepaid orders will be refunded as soon as our inspection team approves the return.
COD orders: Customers will be required to provide their bank details where they would like to receive the refund.
Click to Learn more about our return and exchange policy.
Shipping Policy
We aim to dispatch all orders within 24-48 hours. In case of missing items/ unavailability or delay, we will inform you via email or WhatsApp with the expected date of dispatch.
Most orders are delivered by our courier partners within 5-7 working days from the date of dispatch.
Shipping is free on paid orders above ₹1000.
There are no question found.