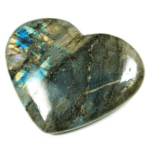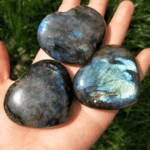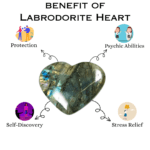 54
people are viewing this right now

Guaranteed safe & secure checkout
Description
The Labradorite Heart is a delightful piece made from labradorite, a mystical and protective stone. This beautiful crystal is well-known for its stunning play-of-color, or labradorescence, which shows colors ranging from blues and greens to yellows and oranges when viewed from different angles. Shaped into a heart, this labradorite piece is not just a gorgeous item to look at, but it also carries the symbolism of love and emotional connection. Whether you're looking for a unique gift for a loved one or want a decorative piece that also promotes balance and protection, the Labradorite Heart can be a perfect choice.


Benefit of Labradorite Heart
The Labradorite Heart comes with several potential advantages:
Protective Shield: Labradorite is renowned for its capability to guard the aura and amplify inner energies.

Equilibrium: Labradorite Heart aids in balancing and managing one's energy, fostering a sense of grounding and stability.

Calmness: Known to potentially alleviate stress and anxiety, the Labradorite Heart induces a peaceful mindset.

Emotional Wellness: The heart-shaped Labradorite serves as a symbol of love and emotional wellness, making it an ideal gift for someone facing a challenging time.

Spark Creativity: Labradorite is often associated with fostering imagination and creativity, potentially stimulating new ideas and solutions.

Enhanced Connection: The heart-shaped Labradorite encourages feelings of compassion and connection, potentially enhancing your bonds with others.
Remember, every Labradorite Heart is unique, and effects may vary from person to person.


How to Use Labradorite Heart?
Using a Labradorite Heart is simple and can be done in various ways:
Carry It: Keeping your Labradorite Heart close, like in your pocket or purse, allows its energy to interact with you throughout the day.

Home Decor: Place it in your living area, bedroom, or workspace to spread its energy to the entire room. It's a beautiful piece that can enhance any space.

Meditation Aid: Hold the Labradorite Heart in your hands during meditation. It can help focus your mind and encourage deeper introspection.

Sleep Companion: Consider putting it under your pillow or by your bedside. Labradorite is known to help with dream recall and promote peaceful sleep.

Gift It: If someone you know is going through a tough time or needs a bit of extra luck, a Labradorite Heart can be a thoughtful and meaningful gift.
Remember, it's essential to cleanse your Labradorite Heart regularly to keep it at its highest vibrational state. This can be done in several ways, including running it under cold water, leaving it in moonlight, or using a selenite charging plate.
Return/Refund Policy
Our return policy lasts for 5 days from the date of delivery. Kindly contact us for any return/refund/exchange within 5 days from the date of delivery.
Return policy is applicable in case of damaged/defective items only.
Item must be unused & packed in original packaging.
Item will be inspected before processing the refund/exchange.
To initiate your return & exchange please send us an email at support@crystaldivine.in with your order receipt and details of the products to be returned. Please also let us know the reason for the return. Your complaints will only be taken into consideration if contacted by email. (WhatsApp / Phone Calls etc. will not be considered as complaint channels).
Upon receiving the returned products, prepaid orders will be refunded as soon as our inspection team approves the return.
COD orders: Customers will be required to provide their bank details where they would like to receive the refund.
Click to Learn more about our return and exchange policy.
Shipping Policy
We aim to dispatch all orders within 24-48 hours. In case of missing items/ unavailability or delay, we will inform you via email or WhatsApp with the expected date of dispatch.
Most orders are delivered by our courier partners within 5-7 working days from the date of dispatch.
Shipping is free on paid orders above ₹1000.
There are no question found.