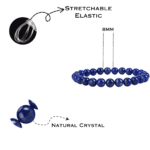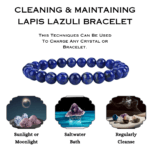 Lapis Lazuli Bracelet – 8 MM (Balance and Harmony)
69
people are viewing this right now

Guaranteed safe & secure checkout
Description
Lapis Lazuli Bracelet (Wise Communication)
Lapis Lazuli bracelet is believed to provide a range of benefits, including promoting inner peace, enhancing intuition and spiritual awareness, boosting self-confidence, and improving communication skills. Lapis Lazuli bracelets are a popular choice among those who practice crystal healing or are interested in alternative forms of healing and spirituality.
Lapis Lazuli bracelet is a deep blue semi-precious stone that has been used for thousands of years for its healing properties. It is believed to help promote spiritual enlightenment, inner peace, and mental clarity.
Benefit of Lapis Lazuli Bracelet
Promoting inner peace and calm: Lapis Lazuli is said to have a calming effect on the mind and help reduce stress and anxiety.

Enhancing intuition and spiritual awareness: The Lapis Lazuli is believed to help open the third eye chakra, which is associated with intuition and spiritual insight.

Communication: Lapis Lazuli is associated with the throat chakra, which is linked to communication and self-expression. Wearing a Lapis Lazuli bracelet is said to help enhance communication skills and improve self-expression.

Boosting self-confidence: The Lapis Lazuli is believed to help boost self-confidence and encourage self-expression.

Providing protection: Lapis Lazuli is said to provide protection from negative energies and promote emotional healing.

Creativity: The Lapis Lazuli is believed to stimulate creativity and inspire new ideas.

Promoting physical healing: Lapis Lazuli is said to have a positive effect on the immune system and can help with issues related to the throat, eyes, and respiratory system.
Overall, wearing a bracelet is considered to be a powerful tool for promoting healing, clarity, and inner peace.
How to use Lapis Lazuli Bracelet?
Wear it on your wrist: The most common way to use a bracelet is to wear it on your wrist. You can wear it alone or stack it with other bracelets for a layered look.

Use it during meditation: Use a bracelet during meditation by holding it in your hand or placing it on your third eye chakra or throat chakra to help enhance intuition and communication.

Keep it in your pocket: You can keep a bracelet in your pocket or purse to help promote inner peace, boost self-confidence, and provide protection from negative energies.

Place it in your environment: Place a Lapis Lazuli bracelet in your home or work environment to help promote creativity, enhance communication, and bring a calming energy to the space.
Remember to cleanse and recharge your bracelet regularly to maintain its healing properties. You can do this by holding it under running water, placing it in sunlight or moonlight, or using other cleansing methods such as smudging with sage or placing it on a selenite crystal.
Shop Other Categories
For more information visit our Social Media Pages CLICK HERE
Return/Refund Policy
Our return policy lasts for 5 days from the date of delivery. Kindly contact us for any return/refund/exchange within 5 days from the date of delivery.
Return policy is applicable in case of damaged/defective items only.
Item must be unused & packed in original packaging.
Item will be inspected before processing the refund/exchange.
To initiate your return & exchange please send us an email at support@crystaldivine.in with your order receipt and details of the products to be returned. Please also let us know the reason for the return. Your complaints will only be taken into consideration if contacted by email. (WhatsApp / Phone Calls etc. will not be considered as complaint channels).
Upon receiving the returned products, prepaid orders will be refunded as soon as our inspection team approves the return.
COD orders: Customers will be required to provide their bank details where they would like to receive the refund.
Click to Learn more about our return and exchange policy.
Shipping Policy
We aim to dispatch all orders within 24-48 hours. In case of missing items/ unavailability or delay, we will inform you via email or WhatsApp with the expected date of dispatch.
Most orders are delivered by our courier partners within 5-7 working days from the date of dispatch.
Shipping is free on paid orders above ₹1000.
There are no question found.