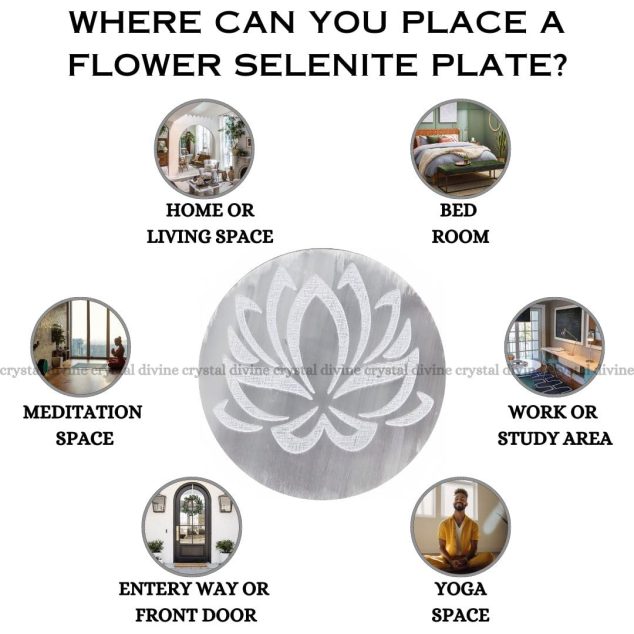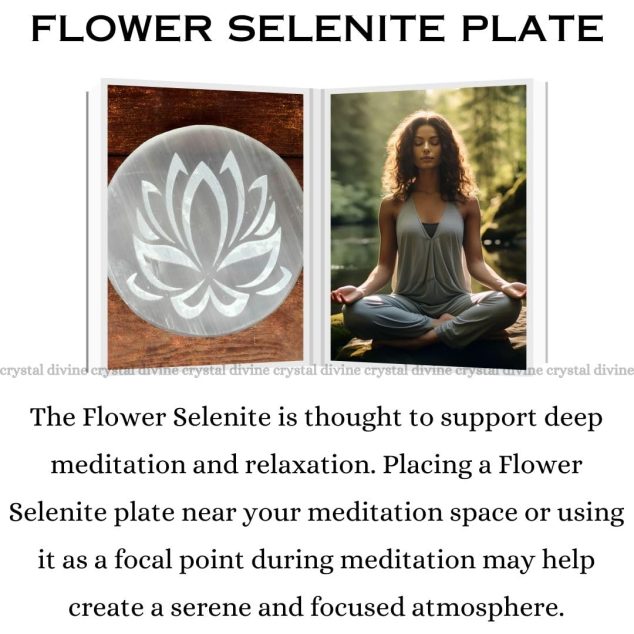 Lotus Flower Selenite Charging Plate
74
people are viewing this right now

Guaranteed safe & secure checkout
Description
Lotus Flower Selenite Charging Plate
Discover the beauty and serenity of our Selenite Charging Plate, gracefully engraved with a delicate lotus flower design. In many cultures, the lotus flower symbolizes purity, renewal, and rebirth – an emblem of emerging unscathed from challenges. Paired with the natural cleansing properties of selenite, this plate isn't just an accessory but a powerful tool. Selenite is renowned for its ability to clear and recharge other crystals, offering them a rejuvenated energy. This combination ensures that while your space is aesthetically pleasing, it also resonates with positive energy. Place it in your home or office and let it be a gentle reminder of growth, purity, and the promise of new beginnings.
Benefits of Lotus Flower Engraved Selenite Charging Plate
Spiritual Symbolism: The lotus flower represents purity, rebirth, and enlightenment in various cultures. It's a reminder that beauty can emerge from the muddiest of circumstances, promoting optimism and perseverance.

Energizing Ambience: The gentle glow of selenite combined with the lotus design brings a sense of tranquility and spiritual upliftment to any room.

Cleansing Power: Selenite naturally purifies and clears the energy of spaces and other crystals. When other gemstones are placed on this plate, they are cleansed of negative energies and recharged.

Amplified Energy: The presence of the lotus amplifies the plate's energy, creating an even stronger vibrational field around it.

Versatile Decor: Beyond its spiritual benefits, it also doubles as a stunning decor piece that complements various interior designs.

Promotes Mental Clarity: Selenite is known for its properties that help in clearing mental clutter, allowing for clearer thought processes.

Stress Relief: The calming energy of selenite combined with the symbolism of the lotus can aid in reducing stress and anxiety, promoting a sense of peace and relaxation.

Enhances Intuition: Regularly interacting with the plate can strengthen one's intuition and psychic awareness.
Incorporating the Lotus Flower Engraved Selenite Charging Plate into your daily routine or decor can be a wonderful way to harness both the natural cleansing properties of selenite and the spiritual significance of the lotus flower.
How to Use the 7 Chakra Selenite Charging Plate?

Placement: Start by selecting a suitable spot in your home or workspace. Ideally, this should be a calm area where you often relax or meditate. The beauty of the lotus design combined with the selenite's natural glow will enhance the ambiance of this space.

Cleansing and Charging Crystals: Lay your crystals or gemstone jewelry directly on the plate. The selenite will naturally cleanse away any negative energy and recharge the items. Depending on the energy saturation of the crystals, this might take anywhere from a few hours to overnight.

Meditation Aid: Sit comfortably near the plate during your meditation sessions. The calming energies of the lotus and selenite will aid in deepening your meditation, helping you to achieve mental clarity and a heightened sense of tranquility.

Energize Personal Items: Place items like keys, watches, or even your phone on the plate for short periods. This will not only cleanse them of accumulated energies but may also introduce a calming energy into your daily routine.

Mindfulness Reminder: The lotus symbol serves as a daily reminder of purity, resilience, and spiritual awakening. Whenever you catch a glimpse of the plate, take a few moments to breathe deeply and realign with these concepts.

Caring for Your Plate: Selenite is a soft mineral and can be scratched easily. Always handle with care. To clean, simply wipe with a soft, dry cloth. Avoid using water as selenite can dissolve over time with prolonged exposure to moisture.

Setting Intentions: Holding an intention ceremony can make your plate even more potent. Hold your hands over the plate, visualize your goals or wishes, and mentally or verbally state your intentions. The plate will now act as a beacon, continuously charging and amplifying your intentions.

Nightly Rest: Before going to sleep, you can place the plate on your bedside table. Its calming energies might aid in peaceful sleep and lucid dreaming.
Incorporating the Lotus Flower Selenite Charging Plate into your daily practices can help not only in cleansing and charging your precious items but also in enhancing your spiritual journey. Embrace its energies and let it guide you toward inner peace and enlightenment.
Return/Refund Policy
Our return policy lasts for 5 days from the date of delivery. Kindly contact us for any return/refund/exchange within 5 days from the date of delivery.
Return policy is applicable in case of damaged/defective items only.
Item must be unused & packed in original packaging.
Item will be inspected before processing the refund/exchange.
To initiate your return & exchange please send us an email at support@crystaldivine.in with your order receipt and details of the products to be returned. Please also let us know the reason for the return. Your complaints will only be taken into consideration if contacted by email. (WhatsApp / Phone Calls etc. will not be considered as complaint channels).
Upon receiving the returned products, prepaid orders will be refunded as soon as our inspection team approves the return.
COD orders: Customers will be required to provide their bank details where they would like to receive the refund.
Click to Learn more about our return and exchange policy.
Shipping Policy
We aim to dispatch all orders within 24-48 hours. In case of missing items/ unavailability or delay, we will inform you via email or WhatsApp with the expected date of dispatch.
Most orders are delivered by our courier partners within 5-7 working days from the date of dispatch.
Shipping is free on paid orders above ₹1000.
There are no question found.