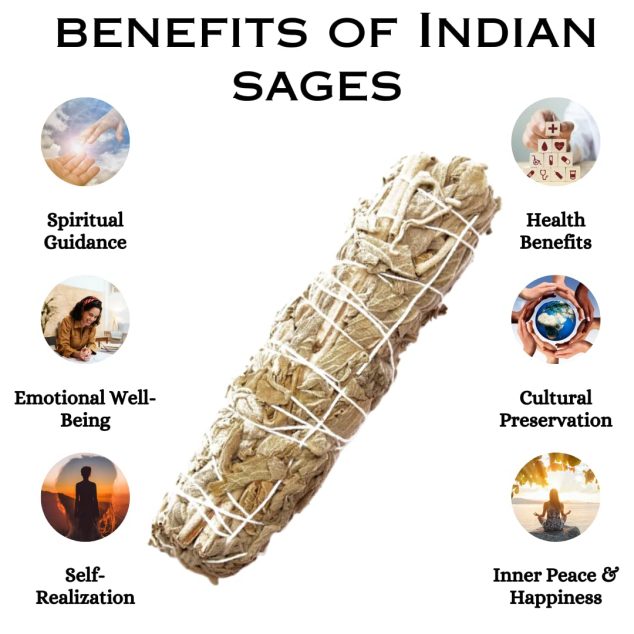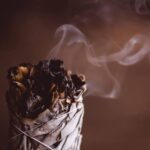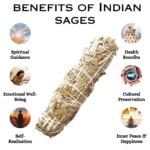 82
people are viewing this right now

Guaranteed safe & secure checkout
Description
Indian Sage, known for its aromatic and spiritual properties, is often used for smudging. Smudging is a traditional practice that involves burning sage to cleanse a space, an object, or a person of any negative energy. The sage used in this practice, including Indian Sage, releases a soothing aroma when burned, contributing to a peaceful atmosphere. For those seeking spiritual cleansing or wish to reset their environment, Indian Sage offers a natural, time-honored method. It's not just used for spiritual practices but also enjoyed by those who simply appreciate its unique, calming scent.


Benefits Of Indian Sage
Indian Sage offers a host of benefits, both tangible and intangible:
Energetic Cleansing: The primary use of Indian Sage is in smudging for energetic cleansing. The smoke from burning sage is believed to cleanse negative energy from people, places, or objects.

Improves Mood and Reduces Stress: The scent of Indian Sage can have a calming effect, helping to reduce stress and anxiety.

Enhances Intuition: Many users find that the serene atmosphere created by sage smudging heightens their intuition and promotes clarity of thought.

Improves Sleep: The calming effects of Indian Sage can also lead to improved sleep, as it helps to create a peaceful and relaxing environment.

Uplifts Atmosphere: The distinct aroma of burning Indian Sage can uplift the atmosphere of a room, making it feel more warm and welcoming.
Remember to always burn sage responsibly and in a well-ventilated area. If you're sensitive to smoke or have respiratory issues, consider other methods of energetic cleansing.


How To Use Indian Sage?
Using Indian Sage for smudging, particularly for energetic cleansing, is a straightforward process. Here's a step-by-step guide:
Prepare Your Space: Open windows and doors to ensure good ventilation. This also provides an exit route for any negative energy.

Light the Sage: Hold the sage at a 45-degree angle, light the tip of the sage, let it burn for a few seconds, and then gently blow out the flame. The sage should smolder and produce a thick smoke.

Set Your Intention: Think clearly about why you're doing this smudging session. You might want to clear negative energy, bring peace, or create a calming atmosphere.

Smudge Your Space: Carefully wave the smoldering sage around the area you want to cleanse. This could be around your body, around a room, or over the healing crystals that you want to cleanse.

Respect the Process: Take your time. Don't rush. Respect the process and the sacred smoke.

Extinguish the Sage: Once you're done, extinguish the sage by pressing it into a fireproof bowl or shell until it stops smoking.

Enjoy the Energized Atmosphere: Sit back and enjoy the cleansed, peaceful, and energized atmosphere.
Remember, safety first. Never leave burning sage unattended and always make sure it's completely out after you're finished with your smudging session.
Return/Refund Policy
Our return policy lasts for 5 days from the date of delivery. Kindly contact us for any return/refund/exchange within 5 days from the date of delivery.
Return policy is applicable in case of damaged/defective items only.
Item must be unused & packed in original packaging.
Item will be inspected before processing the refund/exchange.
To initiate your return & exchange please send us an email at support@crystaldivine.in with your order receipt and details of the products to be returned. Please also let us know the reason for the return. Your complaints will only be taken into consideration if contacted by email. (WhatsApp / Phone Calls etc. will not be considered as complaint channels).
Upon receiving the returned products, prepaid orders will be refunded as soon as our inspection team approves the return.
COD orders: Customers will be required to provide their bank details where they would like to receive the refund.
Click to Learn more about our return and exchange policy.
Shipping Policy
We aim to dispatch all orders within 24-48 hours. In case of missing items/ unavailability or delay, we will inform you via email or WhatsApp with the expected date of dispatch.
Most orders are delivered by our courier partners within 5-7 working days from the date of dispatch.
Shipping is free on paid orders above ₹1000.
There are no question found.