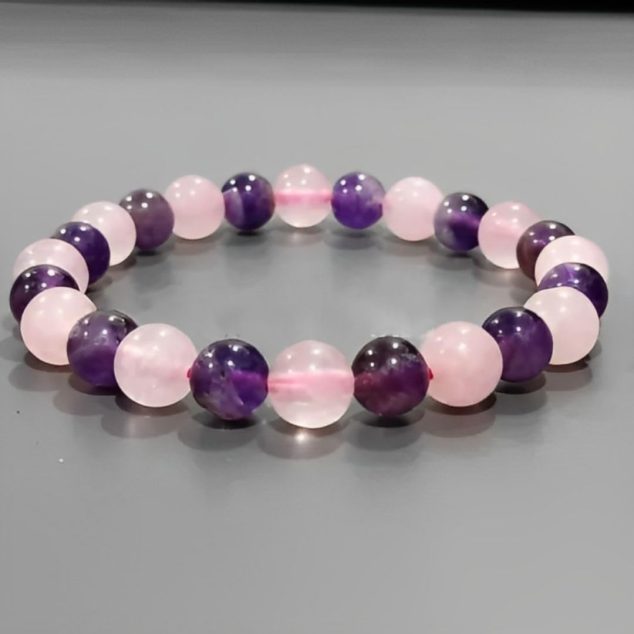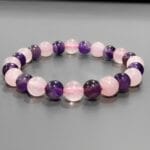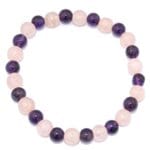 Rose Quartz + Amethyst Bracelet
65
people are viewing this right now

Guaranteed safe & secure checkout
Description
Rose Quartz + Amethyst Bracelet
The Rose Quartz + Amethyst Bracelet is a beautiful piece of jewelry that combines the properties of two of the most popular healing crystals.
Rose Quartz is often referred to as the "love stone," renowned for its ability to encourage unconditional love. It is believed to enhance all types of love—romantic love, family love, friendship love, and love for oneself.
On the other hand, Amethyst is known as a "soothing stone". It's admired for its ability to promote calm, balance, and peace. It is often used to help clear the mind and reduce anxiety and stress.
The combination of these two stones in a bracelet provides a harmonious blend of energies, enhancing love and emotional healing while promoting peace and tranquility. This blend creates a bracelet that is not only a beautiful accessory but also a powerful tool for emotional well-being.


Benefits Of Rose Quartz + Amethyst Bracelet

Wearing a Rose Quartz + Amethyst Bracelet offers a range of potential benefits:
Love and Harmony: Rose Quartz is recognized for promoting love and restoring harmony in relationships, while Amethyst enhances balance and tranquility, resulting in a more peaceful environment.

Emotional Healing: The soothing energy of Rose Quartz can help heal heartaches, while Amethyst aids in soothing emotional distress, leading to emotional stability and strength.

Stress Relief and Calmness: The calming energy of Amethyst can help reduce stress and anxiety, promoting a sense of calm.

Self-love and Confidence: Rose Quartz encourages self-love and confidence, helping you to appreciate and value yourself more.

Enhanced Intuition: Amethyst is known for promoting spiritual growth and enhancing intuition, which can help guide you in making decisions.

Protection: Both stones are considered protective, working together to ward off negative energies and replace them with positive vibes.

Improved Sleep: Amethyst is also thought to promote better sleep and prevent nightmares or insomnia.
With this bracelet, you carry with you a constant source of these energies, helping to improve your overall emotional and mental well-being.


How To Use
Rose Quartz + Amethyst

Bracelet?

Using your Rose Quartz + Amethyst Bracelet is easy and simple:
Wear it daily: Simply wearing the bracelet every day can help you experience the benefits of Rose Quartz and Amethyst. Wear it on your left wrist if you want to receive its energy or your right wrist if you want to project its energy out.

Meditation: During meditation, hold the bracelet in your hands and set your intention for the day. Ask the stones to support and guide you.

Mindful moments: Whenever you touch or see your bracelet during the day, let it serve as a reminder of your intentions and goals.

Sleep: You can wear the bracelet while you sleep, or place it under your pillow to promote peaceful and restful sleep.

Cleansing: Regularly cleanse your bracelet to keep it energized. This could be done by smudging it with sage, leaving it under moonlight, or by other means depending on your preference.
Remember, the key is to have a positive mindset and believe in the energies of the stones to enhance their potential benefits. Enjoy the journey with your Rose Quartz + Amethyst bracelet!
Return/Refund Policy
Our return policy lasts for 5 days from the date of delivery. Kindly contact us for any return/refund/exchange within 5 days from the date of delivery.
Return policy is applicable in case of damaged/defective items only.
Item must be unused & packed in original packaging.
Item will be inspected before processing the refund/exchange.
To initiate your return & exchange please send us an email at support@crystaldivine.in with your order receipt and details of the products to be returned. Please also let us know the reason for the return. Your complaints will only be taken into consideration if contacted by email. (WhatsApp / Phone Calls etc. will not be considered as complaint channels).
Upon receiving the returned products, prepaid orders will be refunded as soon as our inspection team approves the return.
COD orders: Customers will be required to provide their bank details where they would like to receive the refund.
Click to Learn more about our return and exchange policy.
Shipping Policy
We aim to dispatch all orders within 24-48 hours. In case of missing items/ unavailability or delay, we will inform you via email or WhatsApp with the expected date of dispatch.
Most orders are delivered by our courier partners within 5-7 working days from the date of dispatch.
Shipping is free on paid orders above ₹1000.
There are no question found.