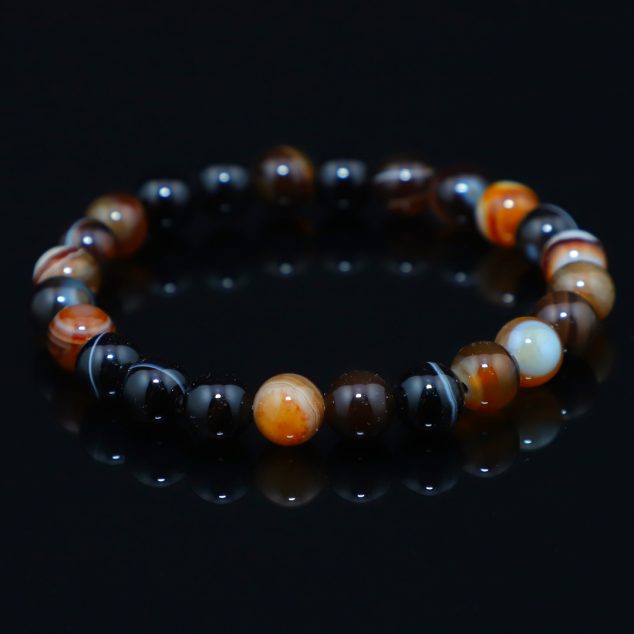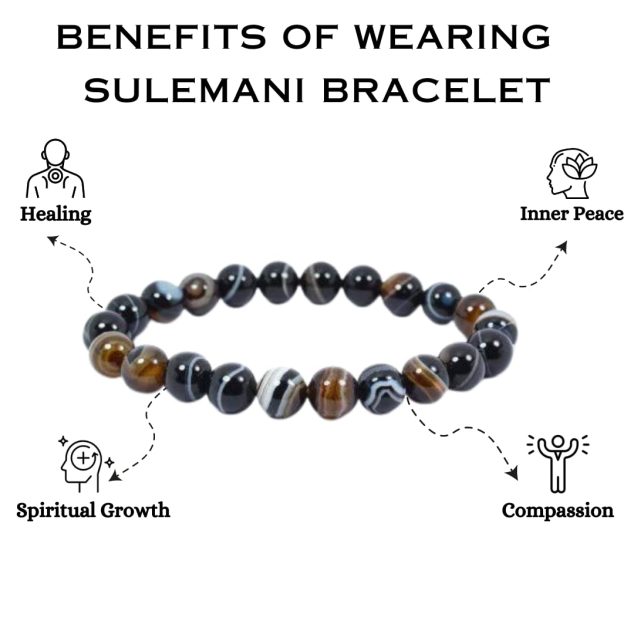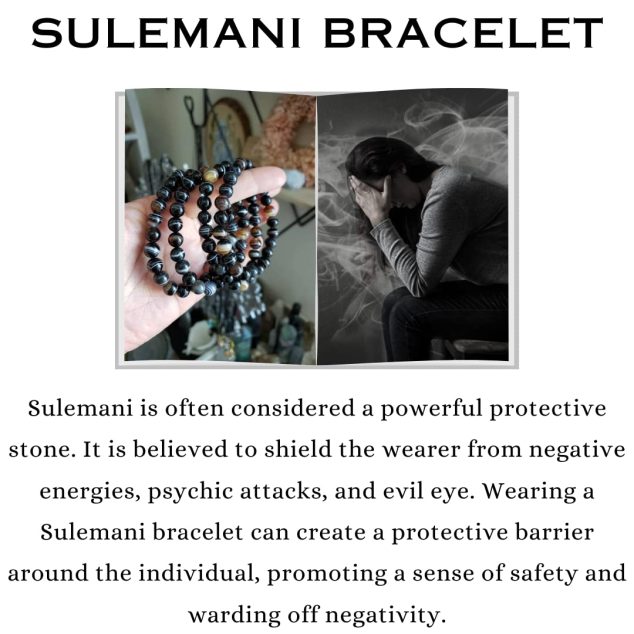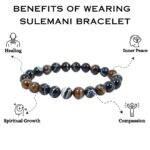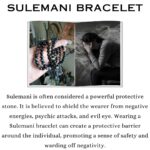 56
people are viewing this right now

Guaranteed safe & secure checkout
Description
Sulemani, also known as Hakik, is a powerful protection stone that absorbs and transforms negative energy. It's admired for its ability to create balance and harmony in the wearer's life.
The Sulemani Bracelet is made of small, polished Sulemani stones strung together. The bracelet's sleek, black stones with streaks of white and yellow are not only attractive but also hold a mystic allure. Wearing a Sulemani Bracelet is believed to bring emotional, physical, and intellectual balance while promoting maturity and inner stability. It's a fantastic accessory for those seeking calm, soothing energy and a balanced state of mind in their everyday life.


Benefits Of Sulemani Bracelet
Wearing a Sulemani bracelet can have several positive impacts:
Balances Energy: Sulemani, as a balancing stone, is believed to harmonize the positive and negative forces that hold the universe in place. This can help in creating a balanced energy field around you.

Protection: The Sulemani stone has been long regarded as a protective stone that shields its wearer from negative energies and harmful influences.

Emotional Stability: It's said to promote inner stability, composure, and maturity, assisting in self-analysis and revealing hidden circumstances that might interfere with well-being.

Physical Benefits: Some people also find that it helps in eliminating and transforming negative energies. Its cleansing effect is powerful at the physical and emotional levels as it raises consciousness and links into collective awareness of the oneness of life.

Enhances Creativity: The Sulemani bracelet is known to stimulate creativity and encourages you to manifest your dreams.

Strengthens Relationships: It's believed to strengthen the bond in relationships and instill loyalty.
Remember, the experience of wearing a Sulemani bracelet can vary from person to person, as everyone's energy and life situation are different.


How To Use Sulemani Bracelet?
Using a Sulemani bracelet is simple. Here are some steps you can follow:
Cleanse Your Bracelet: Before you start wearing your Sulemani bracelet, cleanse it to remove any residual energies. This can be done by placing it under running water or cleansing it with sage smoke.

Intention Setting: Hold the Sulemani bracelet in your hands, close your eyes, and set a clear, strong intention for what you want it to help you with. This step aligns the bracelet with your personal energy.

Wear It: Wear the bracelet on your left wrist, which is considered the receptive side of the body, to absorb the positive energies of the stone.

Mindfulness: Whenever you glance at your bracelet throughout the day, let it be a reminder of the intention you set. This helps to keep your mind focused on that intention.

Regular Cleansing: Remember to cleanse your bracelet regularly to keep its energy strong and clear. You can do this with water, sage, or by placing it in the moonlight during a full moon.
Always remember to treat your Sulemani bracelet with respect due to its spiritual and healing nature.
Return/Refund Policy
Our return policy lasts for 5 days from the date of delivery. Kindly contact us for any return/refund/exchange within 5 days from the date of delivery.
Return policy is applicable in case of damaged/defective items only.
Item must be unused & packed in original packaging.
Item will be inspected before processing the refund/exchange.
To initiate your return & exchange please send us an email at support@crystaldivine.in with your order receipt and details of the products to be returned. Please also let us know the reason for the return. Your complaints will only be taken into consideration if contacted by email. (WhatsApp / Phone Calls etc. will not be considered as complaint channels).
Upon receiving the returned products, prepaid orders will be refunded as soon as our inspection team approves the return.
COD orders: Customers will be required to provide their bank details where they would like to receive the refund.
Click to Learn more about our return and exchange policy.
Shipping Policy
We aim to dispatch all orders within 24-48 hours. In case of missing items/ unavailability or delay, we will inform you via email or WhatsApp with the expected date of dispatch.
Most orders are delivered by our courier partners within 5-7 working days from the date of dispatch.
Shipping is free on paid orders above ₹1000.
There are no question found.