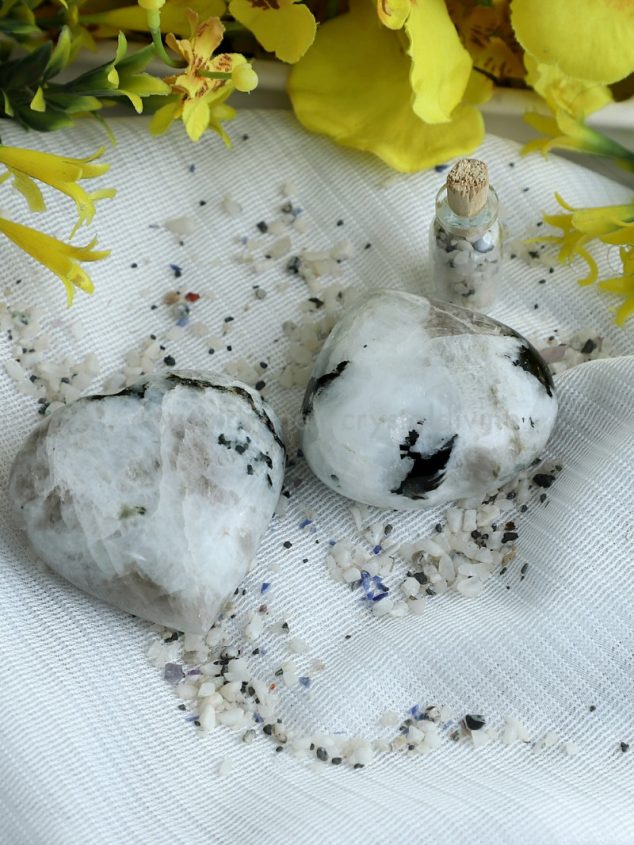 Rainbow Moonstone Heart (Enhancing intuition and psychic abilities)
56
people are viewing this right now

Guaranteed safe & secure checkout
Description
Rainbow Moonstone Heart refers to a heart-shaped gemstone made of a type of feldspar mineral known as moonstone. Rainbow Moonstone is a variety of moonstone that has a white to transparent color base, with adularescent iridescence or flashes of blue, green, yellow, and pink colors on its surface. This unique effect is caused by light interference within the crystal structure of the stone.
Rainbow Moonstone is believed to have metaphysical properties, such as promoting inner growth, creativity, and intuition. It is also said to help balance emotions, calm the mind, and enhance spiritual awareness. As a heart-shaped gemstone, Moonstone Heart can be used in various ways, such as in jewelry, meditation, or as a decorative piece. It is often given as a gift to express love, friendship, or appreciation.
Benefit of Rainbow Moonstone Heart
Emotional Balance: Rainbow Moonstone is thought to help balance emotions by soothing feelings of anxiety, stress, and worry. It is also believed to enhance emotional intelligence and help one understand their own feelings and those of others.

Spiritual Growth: Rainbow Moonstone is said to enhance spiritual growth and intuition. It is believed to help one connect with their higher self and access higher levels of consciousness.

Creativity: Rainbow Moonstone is thought to enhance creativity and inspire new ideas. It is believed to help artists, writers, and musicians tap into their creative energy and bring their visions to life.

Hormonal Balance: Rainbow Moonstone is believed to help balance hormones and ease menstrual symptoms, such as cramps, bloating, and mood swings.

Protection: Rainbow Moonstone is said to have a protective energy that shields the wearer from negative energy and psychic attacks.

Love and Relationships: Rainbow Moonstone is believed to enhance love and strengthen relationships. It is thought to promote compassion, empathy, and understanding in relationships and bring harmony to romantic partnerships.
Overall, Rainbow Heart is believed to be a powerful crystal that can promote physical, emotional, and spiritual healing and growth.
How to Use Rainbow Moonstone Heart
Jewelry: Moonstone Heart can be set in jewelry like necklaces, earrings, and bracelets to wear close to the skin. This allows the crystal's energy to interact with your body's energy field, promoting emotional and spiritual healing.

Meditation: You can meditate with Rainbow Heart by holding it in your hand or placing it on your heart chakra during your meditation practice. This can help you connect with the crystal's energy and enhance your spiritual growth and intuition.

Decorative Piece: You can display Rainbow Heart in your home or office as a decorative piece to promote a peaceful and harmonious environment. It can also serve as a reminder of your intentions and spiritual goals.

Healing: Moonstone Heart can be used for healing purposes by placing it on areas of the body where there is pain or discomfort. You can also carry it with you in your pocket or purse for on-the-go healing.

Gift: Rainbow Heart can be given as a gift to express love, friendship, or appreciation. It is a meaningful and thoughtful gift that can promote emotional and spiritual healing for the recipient.
When using Rainbow Moonstone Heart, it's important to set your intentions and approach it with an open mind and heart. Allow yourself to connect with the crystal's energy and trust that it will guide you towards emotional and spiritual growth.
Shop Other Categories
For More Information Visit Our Social Media Pages CLICK HERE
Return/Refund Policy
Our return policy lasts for 5 days from the date of delivery. Kindly contact us for any return/refund/exchange within 5 days from the date of delivery.
Return policy is applicable in case of damaged/defective items only.
Item must be unused & packed in original packaging.
Item will be inspected before processing the refund/exchange.
To initiate your return & exchange please send us an email at support@crystaldivine.in with your order receipt and details of the products to be returned. Please also let us know the reason for the return. Your complaints will only be taken into consideration if contacted by email. (WhatsApp / Phone Calls etc. will not be considered as complaint channels).
Upon receiving the returned products, prepaid orders will be refunded as soon as our inspection team approves the return.
COD orders: Customers will be required to provide their bank details where they would like to receive the refund.
Click to Learn more about our return and exchange policy.
Shipping Policy
We aim to dispatch all orders within 24-48 hours. In case of missing items/ unavailability or delay, we will inform you via email or WhatsApp with the expected date of dispatch.
Most orders are delivered by our courier partners within 5-7 working days from the date of dispatch.
Shipping is free on paid orders above ₹1000.
There are no question found.