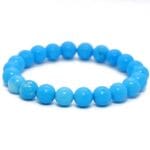 89
people are viewing this right now

Guaranteed safe & secure checkout
Description
The Firoza Bracelet is a radiant accessory crafted from the semi-precious gemstone, Firoza, also known as turquoise. Renowned for its mesmerizing shades of blue, reminiscent of clear ocean waters, Firoza has been celebrated for ages for its potential protective and healing properties. Wearing this bracelet not only enhances your ensemble with a touch of elegance but also invites peace and balance into your daily life, making it a perfect companion for those in search of both style and tranquility.


Benefits Of Firoza Bracelet

Spiritual Connection: Firoza is often regarded as a spiritual stone that can help connect the wearer to higher realms of consciousness.

Emotional Healing: Believed to provide solace for the spirit and well-being for the body, Firoza has the power to promote inner tranquility and ward off negative energies.

Physical Protection: Traditionally, many cultures consider Firoza to be a protective stone that shields the wearer from harm.

Enhances Communication: Firoza is linked to the throat chakra and is believed to enhance honest and clear communication from the heart.

Strengthens Immunity: Some ancient cultures believed that Firoza had healing properties and could strengthen the immune system.

Fashion Statement: Beyond its metaphysical benefits, a Firoza bracelet is an elegant accessory that can add a splash of color and sophistication to any outfit.

Promotes Balance: Firoza is considered a balancing stone, helping harmonize any emotional or spiritual discord in the wearer's life.

Natural Beauty: Each Firoza stone is unique, with its patterns and shades of blue and green, making every bracelet a one-of-a-kind piece of art.
How To Use Firoza Bracelet?

Wear Daily: For the best effect, wear your Firoza bracelet on your wrist daily. It can match with many outfits because of its lovely blue color.
Left or Right: Some believe wearing it on the left wrist can attract positive energy, while the right wrist helps to release negative energy. Choose whichever feels right for you.
Cleanse Regularly: Keep the bracelet clean. You can rinse it with lukewarm water and dry with a soft cloth. This helps to remove any negative energy it might have picked up.
Meditate: Hold the bracelet in your hand during meditation. This can help you feel more calm and focused.
Set Intentions: When you first get your bracelet, hold it and think about what you wish for – like peace, love, or protection. This sets a personal intention for the bracelet.
Take Care: Avoid chemicals, sharp objects, or rough activities when wearing it to keep the bracelet looking nice.
Return/Refund Policy
Our return policy lasts for 5 days from the date of delivery. Kindly contact us for any return/refund/exchange within 5 days from the date of delivery.
Return policy is applicable in case of damaged/defective items only.
Item must be unused & packed in original packaging.
Item will be inspected before processing the refund/exchange.
To initiate your return & exchange please send us an email at support@crystaldivine.in with your order receipt and details of the products to be returned. Please also let us know the reason for the return. Your complaints will only be taken into consideration if contacted by email. (WhatsApp / Phone Calls etc. will not be considered as complaint channels).
Upon receiving the returned products, prepaid orders will be refunded as soon as our inspection team approves the return.
COD orders: Customers will be required to provide their bank details where they would like to receive the refund.
Click to Learn more about our return and exchange policy.
Shipping Policy
We aim to dispatch all orders within 24-48 hours. In case of missing items/ unavailability or delay, we will inform you via email or WhatsApp with the expected date of dispatch.
Most orders are delivered by our courier partners within 5-7 working days from the date of dispatch.
Shipping is free on paid orders above ₹1000.
There are no question found.