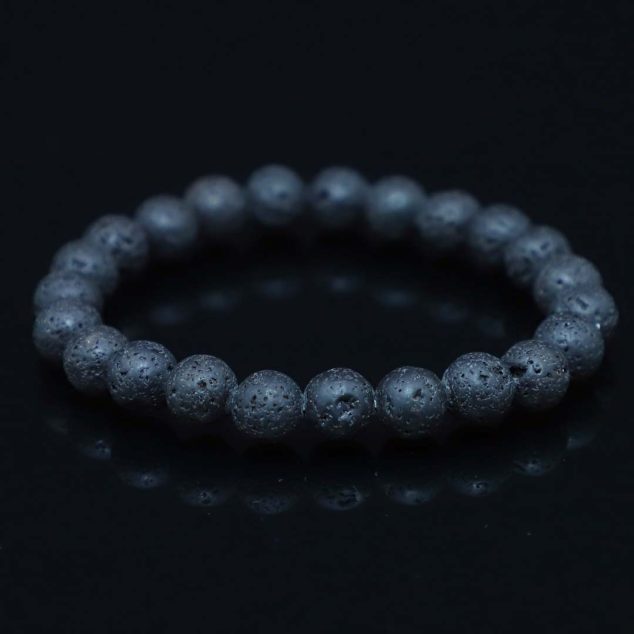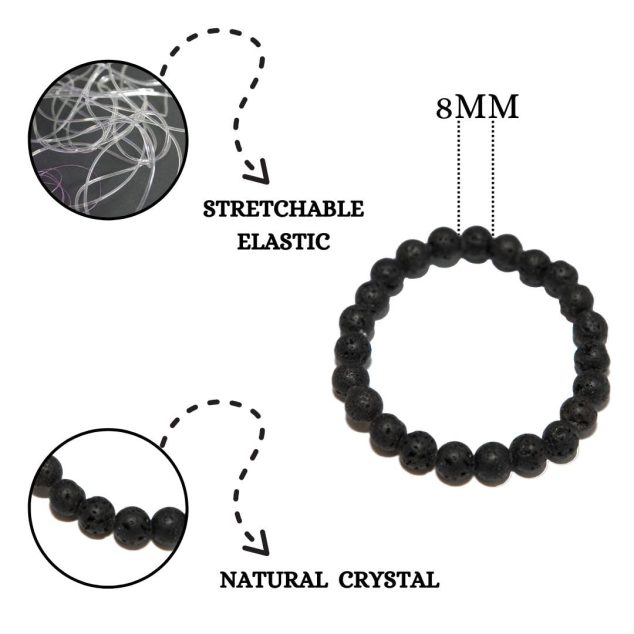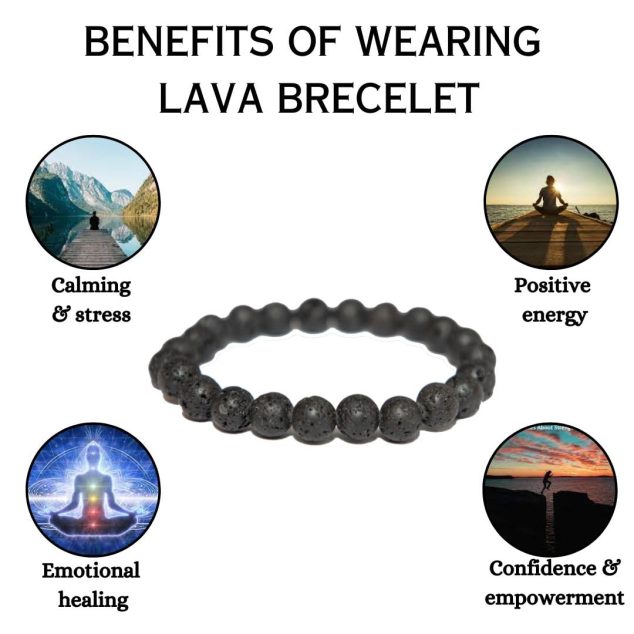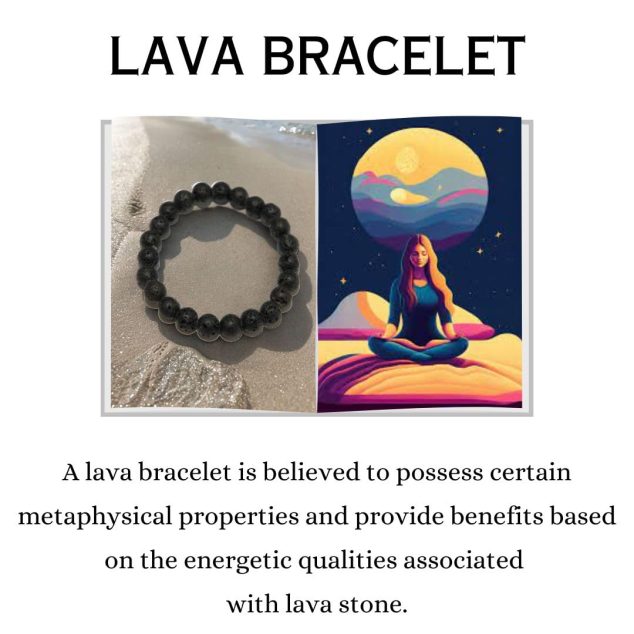 89
people are viewing this right now

Guaranteed safe & secure checkout
Description
A Lava Bracelet is a unique and beautiful piece of jewelry, featuring beads made from volcanic lava rocks. These bracelets have a deep connection to the Earth due to their origin. Known for their grounding properties, they offer strength and courage, enabling you to bounce back from challenging times. Their porous nature also makes them excellent for absorbing essential oils, allowing you to carry your favorite scents with you all day. This makes the Lava Bracelet not only an attractive accessory but also a tool for wellness and balance.


Benefits Of Lava Bracelet

The Lava Bracelet is known for its numerous benefits. Here are some:
Grounding: As they come from the Earth, lava stones are fantastic for stabilizing and grounding the root chakra.

Strength and Courage: Lava stones provide strength and courage in times of change. They offer guidance and understanding in situations where you may need to bounce back.

Emotional Tranquility: Lava stone has a calming effect on the emotions. It can help to dissipate anger and provide guidance and understanding.

Connection to Mother Earth: Lava stones carry the energy of the Earth, making you feel connected and grounded wherever you are.

Aromatherapy: Lava stones are porous, which allows them to absorb essential oils and act as a natural diffuser. Just add a few drops of your favorite essential oil and enjoy the added therapeutic benefits it brings.


How To Use Lava Bracelet?

Using a Lava Bracelet is pretty straightforward. Here's how you can do it:
Wear it daily: Wearing your lava bracelet every day is a great way to benefit from its grounding and calming properties.

Essential Oils: You can drop some of your favorite essential oils on the bracelet. The porous nature of the lava stones absorbs the oil and diffuses the fragrance and benefits throughout the day. Just add a drop or two of your chosen essential oil onto the lava stones and let it soak in before putting it on.

Meditation: Use the lava bracelet as a meditation tool. While meditating, hold the bracelet and visualize the energy of the earth grounding you and providing you with strength.

Chakra Balancing: The lava bracelet is also useful in chakra balancing. Envision the grounding energy of the lava stones working on your root chakra.
Remember to regularly cleanse your lava bracelet to keep its energy pure and potent. You can do this by leaving it out in the moonlight overnight or by using a sage smudging stick. This way, the bracelet will be cleansed of any negative energy and ready to help you again.
Return/Refund Policy
Our return policy lasts for 5 days from the date of delivery. Kindly contact us for any return/refund/exchange within 5 days from the date of delivery.
Return policy is applicable in case of damaged/defective items only.
Item must be unused & packed in original packaging.
Item will be inspected before processing the refund/exchange.
To initiate your return & exchange please send us an email at support@crystaldivine.in with your order receipt and details of the products to be returned. Please also let us know the reason for the return. Your complaints will only be taken into consideration if contacted by email. (WhatsApp / Phone Calls etc. will not be considered as complaint channels).
Upon receiving the returned products, prepaid orders will be refunded as soon as our inspection team approves the return.
COD orders: Customers will be required to provide their bank details where they would like to receive the refund.
Click to Learn more about our return and exchange policy.
Shipping Policy
We aim to dispatch all orders within 24-48 hours. In case of missing items/ unavailability or delay, we will inform you via email or WhatsApp with the expected date of dispatch.
Most orders are delivered by our courier partners within 5-7 working days from the date of dispatch.
Shipping is free on paid orders above ₹1000.
There are no question found.