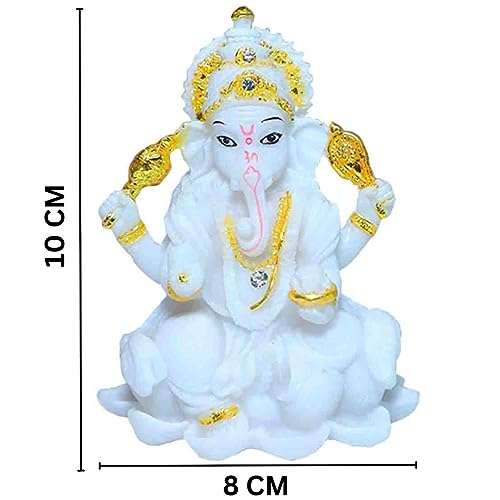 Ganesh Idol White Marble Murti
63
people are viewing this right now

Guaranteed safe & secure checkout
Description
Ganesh Idol White Marble Murti
The Ganesh Idol White Marble Murti is a lovely statue, perfect for any home. Made from shiny white marble, it shows all the details of Lord Ganesh in a simple but special way. This statue is not just a piece to look at but can also bring good feelings and peace to your space. If you want a decoration that stands out and means something, this marble murti is a great choice.
Benefit Of Ganesh Idol White Marble Murti
Good Looks: The white marble makes the Ganesh Idol shine and look elegant.
Lasts Long: Marble is strong and doesn't wear out easily, so the murti stays looking new for years.
Peaceful Feel: Lord Ganesh is known for bringing good luck and removing obstacles. Having his idol can make you feel calm and positive.
Easy Cleaning: White marble is simple to clean with just a wipe.
Special Gift: It's a thoughtful gift for birthdays, festivals, or housewarming events.
Room Decor: Besides its spiritual value, the murti can make any room look more beautiful and cultured.
Connect with Culture: It's a way to remember and celebrate traditional stories and values.
Space Saver: Being compact, it fits easily on shelves or tabletops without taking much space.
Having a Ganesh Idol White Marble Murti is like adding a touch of art, culture, and good vibes all at once to your home.
How to use Ganesh Idol White Marble Murti
Prayer Place: Set the idol in a corner of your home for daily prayers or special rituals. It's traditionally good to have it face the entrance or a window.
Decorate Your Room: Because it's so pretty, you can place it in a living area, bedroom, or study. It adds beauty and a calm feeling.
Gift Someone: It's a thoughtful gift for friends or family, especially during festivals or special occasions.
Festivals: During Ganesh Chaturthi or other celebrations, make the idol the center of your decorations and festivities.
Desk Buddy: If you have space, keep it on your work desk. It can be a peaceful reminder during busy times.
Care Tips:
Give it a gentle wipe now and then to keep it clean.
If it gets a little dirty, just use a damp cloth to clean it softly.
Keep it somewhere safe so it doesn't accidentally fall or get damaged.
Having a white marble Ganesh murti is a simple way to bring beauty and peaceful vibes into your space.
Return/Refund Policy
Our return policy lasts for 5 days from the date of delivery. Kindly contact us for any return/refund/exchange within 5 days from the date of delivery.
Return policy is applicable in case of damaged/defective items only.
Item must be unused & packed in original packaging.
Item will be inspected before processing the refund/exchange.
To initiate your return & exchange please send us an email at support@crystaldivine.in with your order receipt and details of the products to be returned. Please also let us know the reason for the return. Your complaints will only be taken into consideration if contacted by email. (WhatsApp / Phone Calls etc. will not be considered as complaint channels).
Upon receiving the returned products, prepaid orders will be refunded as soon as our inspection team approves the return.
COD orders: Customers will be required to provide their bank details where they would like to receive the refund.
Click to Learn more about our return and exchange policy.
Shipping Policy
We aim to dispatch all orders within 24-48 hours. In case of missing items/ unavailability or delay, we will inform you via email or WhatsApp with the expected date of dispatch.
Most orders are delivered by our courier partners within 5-7 working days from the date of dispatch.
Shipping is free on paid orders above ₹1000.
There are no question found.