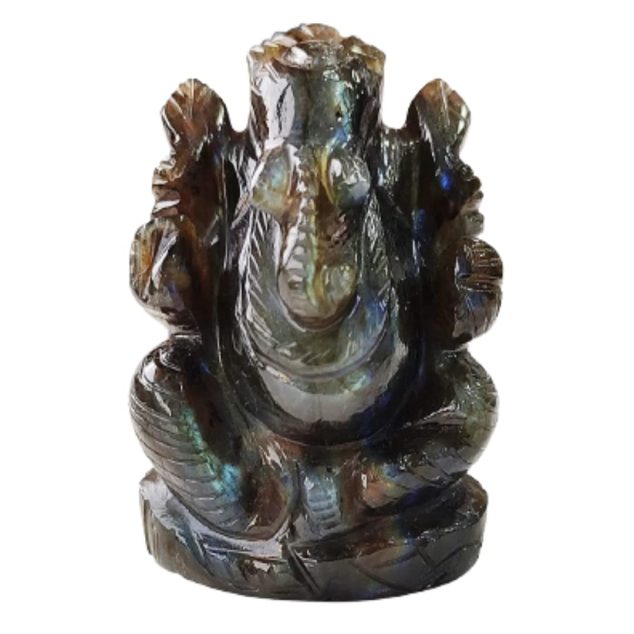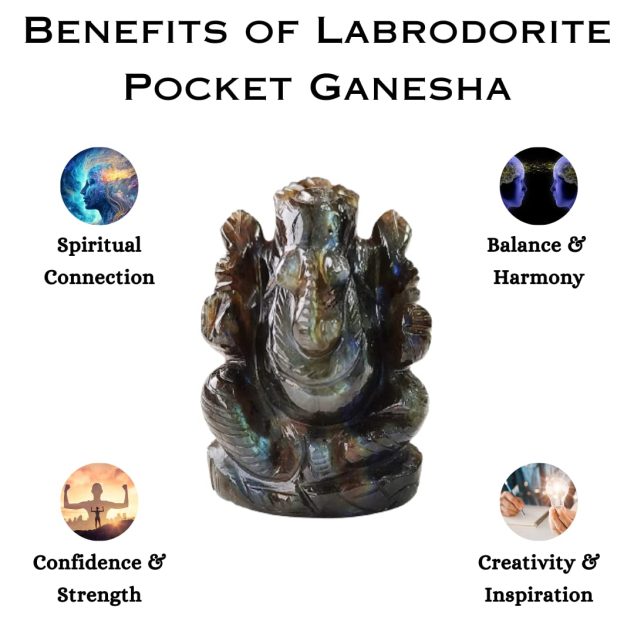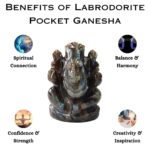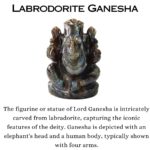 Labradorite Pocket Ganesha
58
people are viewing this right now

Guaranteed safe & secure checkout
Description
Labradorite Pocket Ganesha
 The Labradorite Pocket Ganesha is a specially crafted figurine of Lord Ganesha, sculpted from the mesmerizing labradorite gemstone. Characterized by its captivating play of colors, labradorite is renowned for its properties of transformation, protection, and awakening one's inner spirit. When paired with the wisdom and obstacle-removing energies of Ganesha, this unique piece becomes a potent symbol of magic, intuition, and spiritual guidance. A must-have for individuals seeking to ignite their inner spark and navigate life's journey with enhanced clarity and purpose.
Benefits Of Labradorite Pocket Ganesha
Boosts Intuition: Labradorite helps you trust your inner feelings and gut instincts.
Personal Growth: This stone supports change and self-improvement.
Smooths Life's Path: Ganesha's presence helps clear away problems and challenges.
Protects You: Labradorite keeps away bad vibes and negativity.
Clears the Mind: Helps in making decisions by offering mental clarity.

Enhances Creativity: Labradorite can inspire fresh ideas and spark imagination.

Strengthens Faith: Ganesha's essence reminds you of the higher power and deepens faith during uncertain times.

Eases Anxiety: The calming properties of labradorite help to soothe nerves and reduce stress.

Stability in Relationships: Promotes understanding and harmony in personal connections.

Physical Healing: Some believe labradorite assists in healing ailments and balancing the body's energies.
With the Labradorite Pocket Ganesha in your possession, every day becomes an opportunity for personal discovery, protection, and positive energy.
How To Use Labradorite Pocket Ganesha?
Carry it Daily: Keep the Labradorite Pocket Ganesha in your bag or pocket to benefit from its energies throughout the day.

Desk Companion: Place it on your work or study desk to enhance focus and keep negativity at bay.

Meditation Aid: Hold the pocket Ganesha during your meditation sessions to deepen your connection to intuition and spiritual insights.

Bedtime Buddy: Position it on your bedside table to encourage peaceful sleep and vivid, meaningful dreams.

Personal Altar: Incorporate it into your sacred space at home, infusing your spiritual practices with its transformative energy.

Travel Protector: When traveling, have the Labradorite Pocket Ganesha with you for protection and to attract positive experiences.

Gift with Intention: Share its magic by gifting it to someone who could benefit from its transformative and protective energies.

Moment of Pause: Whenever feeling overwhelmed or unsure, hold the pocket Ganesha, take a deep breath, and seek guidance from within.

Home Blessing: Keep it in the main living area of your home to attract positive vibes and create a harmonious atmosphere.

Affirmation Amplifier: Hold the Labradorite Pocket Ganesha while reciting your daily affirmations, enhancing their power with the stone's energy.
Using the Labradorite Pocket Ganesha is a simple yet profound way to invite transformation, intuition, and protection into your daily life.
Return/Refund Policy
Our return policy lasts for 5 days from the date of delivery. Kindly contact us for any return/refund/exchange within 5 days from the date of delivery.
Return policy is applicable in case of damaged/defective items only.
Item must be unused & packed in original packaging.
Item will be inspected before processing the refund/exchange.
To initiate your return & exchange please send us an email at support@crystaldivine.in with your order receipt and details of the products to be returned. Please also let us know the reason for the return. Your complaints will only be taken into consideration if contacted by email. (WhatsApp / Phone Calls etc. will not be considered as complaint channels).
Upon receiving the returned products, prepaid orders will be refunded as soon as our inspection team approves the return.
COD orders: Customers will be required to provide their bank details where they would like to receive the refund.
Click to Learn more about our return and exchange policy.
Shipping Policy
We aim to dispatch all orders within 24-48 hours. In case of missing items/ unavailability or delay, we will inform you via email or WhatsApp with the expected date of dispatch.
Most orders are delivered by our courier partners within 5-7 working days from the date of dispatch.
Shipping is free on paid orders above ₹1000.
There are no question found.