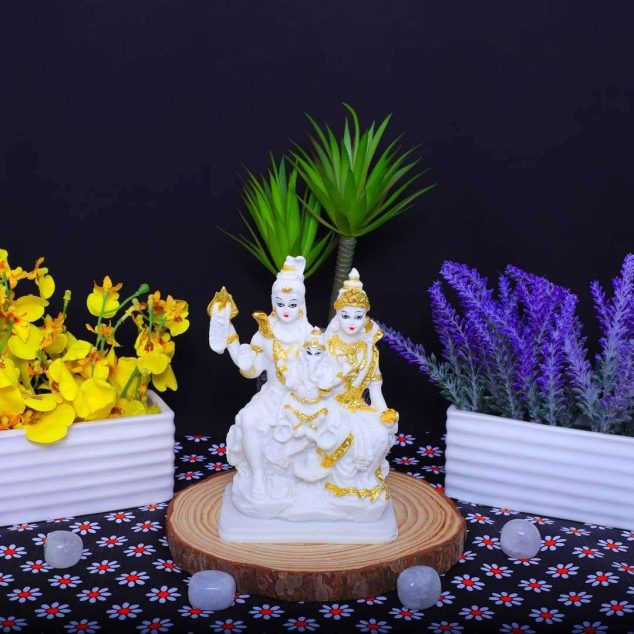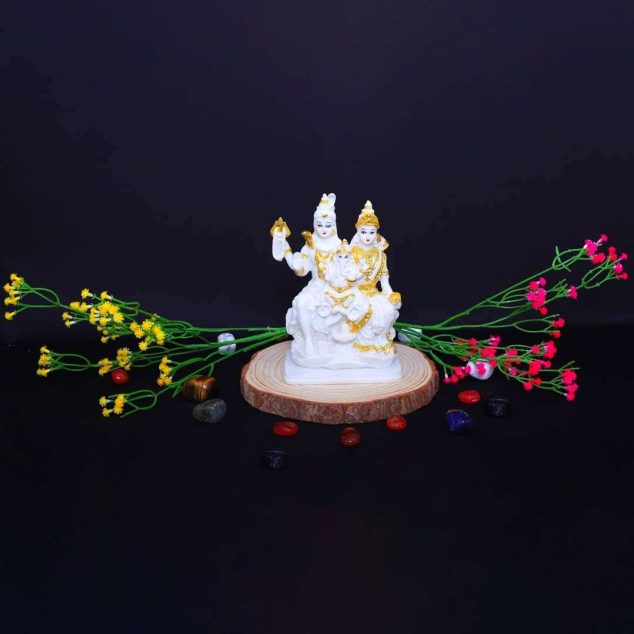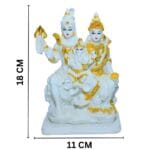 Lord Shiva Family Marble Statue
91
people are viewing this right now

Guaranteed safe & secure checkout
Description
Lord Shiva Family Marble Statue
This special marble statue is a beautiful display of the Lord Shiva family. In the statue, you can see Lord Shiva, his wife Parvathi Devi, and their son Shree Ganesh Ji standing together. The Mahadev family is known for their strong bond, and this statue captures that feeling. Made from high-quality marble, the details are fine and clear, making it a great piece for homes. Many people love to have it because it brings a sense of peace and family closeness. Besides being a religious symbol, it's also a lovely piece of art that can make any space look more inviting and meaningful.
Benefits Of Lord Shiva Family Marble Statue
Feel Close to God: This statue helps people feel connected to Lord Shiva, Parvathi Devi, and Ganesh Ji when they pray or think about them.
Looks Beautiful: Made of marble, it adds beauty to any room. It's nice to look at and can make a place feel special.
Reminds of Family: The statue shows the close bond of the Shiva family. It reminds us of the love and togetherness in our own families.
Good Vibes: Some people believe having this statue brings good feelings and peace to their home.
Lasts Long: Marble is strong, so the statue will stay good for many years.
Nice Gift: It's a thoughtful gift for friends or family, especially on special days.
Learn About Culture: The statue can teach us more about Indian stories and traditions.
In short, this statue is not just pretty but also makes us feel good and connected.
How To Use Lord Shiva Family Marble Statue
Prayer Spot: Set up the Lord Shiva Family Marble Statue in a special corner of your home. It can be a focal point for daily prayers, helping you connect with Lord Shiva, Parvathi Devi, and Ganesh Ji.
Living Room Display: Given its elegant look, place the marble statue as a centerpiece in your living room. Visitors will surely notice and it might even become a topic of discussion.
Home Entrance: By positioning the Mahadev family statue near your home's entrance, it can act as a symbol of blessings and protection for all who enter.
Peaceful Bedroom: The serene presence of Lord Shiva, Parvathi Devi, and Ganesh Ji can bring a calming energy. Consider placing the statue in your bedroom for tranquility.
Workspace Inspiration: If you want a touch of divinity in your workspace, having the Lord Shiva family marble statue on your office desk can be uplifting.
Gifting: For special occasions, this statue can be a wonderful gift, especially for those who revere Lord Shiva, Parvathi Devi, or Ganesh Ji.
Cultural Teaching: If you're keen on sharing stories of the Mahadev family with younger generations, this statue can be a visual aid to make tales more engaging.
Always handle with care. To keep it looking new, gently wipe with a cloth occasionally, avoiding harsh chemicals. With proper care, the statue remains a cherished item in your home.
Return/Refund Policy
Our return policy lasts for 5 days from the date of delivery. Kindly contact us for any return/refund/exchange within 5 days from the date of delivery.
Return policy is applicable in case of damaged/defective items only.
Item must be unused & packed in original packaging.
Item will be inspected before processing the refund/exchange.
To initiate your return & exchange please send us an email at support@crystaldivine.in with your order receipt and details of the products to be returned. Please also let us know the reason for the return. Your complaints will only be taken into consideration if contacted by email. (WhatsApp / Phone Calls etc. will not be considered as complaint channels).
Upon receiving the returned products, prepaid orders will be refunded as soon as our inspection team approves the return.
COD orders: Customers will be required to provide their bank details where they would like to receive the refund.
Click to Learn more about our return and exchange policy.
Shipping Policy
We aim to dispatch all orders within 24-48 hours. In case of missing items/ unavailability or delay, we will inform you via email or WhatsApp with the expected date of dispatch.
Most orders are delivered by our courier partners within 5-7 working days from the date of dispatch.
Shipping is free on paid orders above ₹1000.
There are no question found.