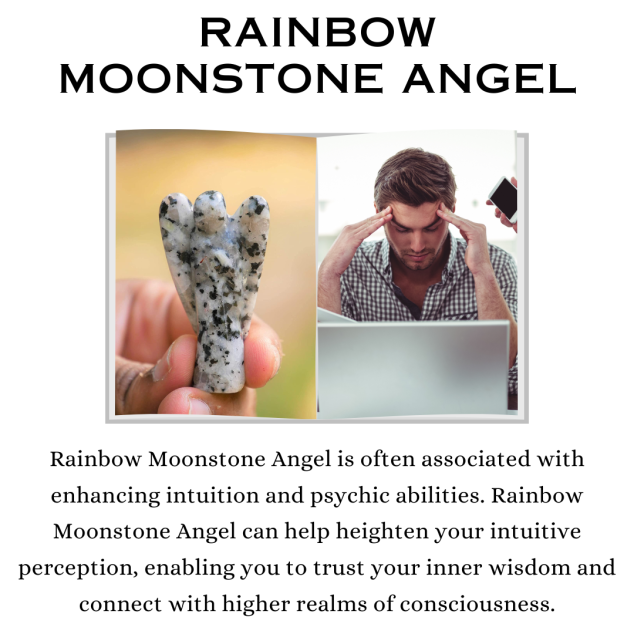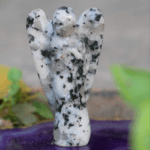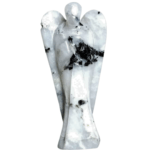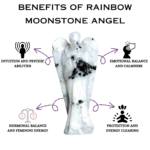 80
people are viewing this right now

Guaranteed safe & secure checkout
Description
Rainbow Moonstone Angel is a beautiful and serene piece of spiritual decor. It is shaped like an angel and crafted from rainbow moonstone, a type of gemstone that has a mysterious, milky sheen with colors flashing inside it, like a mini rainbow. This gemstone is said to be filled with compassionate and balancing energies.
When these stones are carved into the form of an angel, they're believed to enhance their innate qualities with the symbolism of angels – that of guidance, protection, and love. This makes the Rainbow Moonstone Angel a cherished item for those looking for a comforting presence or a connection to higher energies in their daily lives.


Benefits Of Rainbow Moonstone Angel
The Rainbow Moonstone Angel is not just an appealing piece of decor; it's also associated with a variety of potential benefits:
Emotional Balance: Rainbow Moonstone is often associated with soothing and calming energies that can help to alleviate stress and emotional turmoil.

Intuition: This stone is believed to enhance one's intuition, making it easier to make decisions and understand life's ups and downs.

Creativity: Some people find that rainbow moonstone can stimulate their creativity and imagination, making this a favorite among artists and writers.

Protection: In the shape of an angel, the Rainbow Moonstone may amplify feelings of protection, bringing comfort to those who have it in their homes.

Connection: For those who practice spirituality, it is said that rainbow moonstone can enhance one's connection to higher energies and increase the awareness of synchronicities.
Remember, everyone experiences these benefits differently. It's about personal belief and what feels right for you. Enjoy your Rainbow Moonstone Angel in the way that suits you best.


How To Use Rainbow Moonstone Angel?
The Rainbow Moonstone Angel can be utilized in a variety of ways based on your personal preference:
Meditation: During meditation, you can hold the Rainbow Moonstone Angel in your hand or place it in front of you. This can help focus your thoughts and potentially enhance your meditative experience.

Decor: The Rainbow Moonstone Angel can be a wonderful addition to your living space or workplace. Place it somewhere you will see it often to remind yourself of its properties and potential benefits.

Personal Use: Some people like to keep their Rainbow Moonstone Angel close. You could carry it in your pocket, purse or even under your pillow while sleeping.

Energy Work: If you're into energy work, you can use the Rainbow Moonstone Angel in your practices. It can be placed on specific points of the body during a session.

Gift: The Rainbow Moonstone Angel also makes a thoughtful gift. It could potentially bring comfort and positivity to someone you care about.
Remember, it's all about what resonates with you personally. Use your Rainbow Moonstone Angel in ways that suit you and your lifestyle.
Return/Refund Policy
Our return policy lasts for 5 days from the date of delivery. Kindly contact us for any return/refund/exchange within 5 days from the date of delivery.
Return policy is applicable in case of damaged/defective items only.
Item must be unused & packed in original packaging.
Item will be inspected before processing the refund/exchange.
To initiate your return & exchange please send us an email at support@crystaldivine.in with your order receipt and details of the products to be returned. Please also let us know the reason for the return. Your complaints will only be taken into consideration if contacted by email. (WhatsApp / Phone Calls etc. will not be considered as complaint channels).
Upon receiving the returned products, prepaid orders will be refunded as soon as our inspection team approves the return.
COD orders: Customers will be required to provide their bank details where they would like to receive the refund.
Click to Learn more about our return and exchange policy.
Shipping Policy
We aim to dispatch all orders within 24-48 hours. In case of missing items/ unavailability or delay, we will inform you via email or WhatsApp with the expected date of dispatch.
Most orders are delivered by our courier partners within 5-7 working days from the date of dispatch.
Shipping is free on paid orders above ₹1000.
There are no question found.