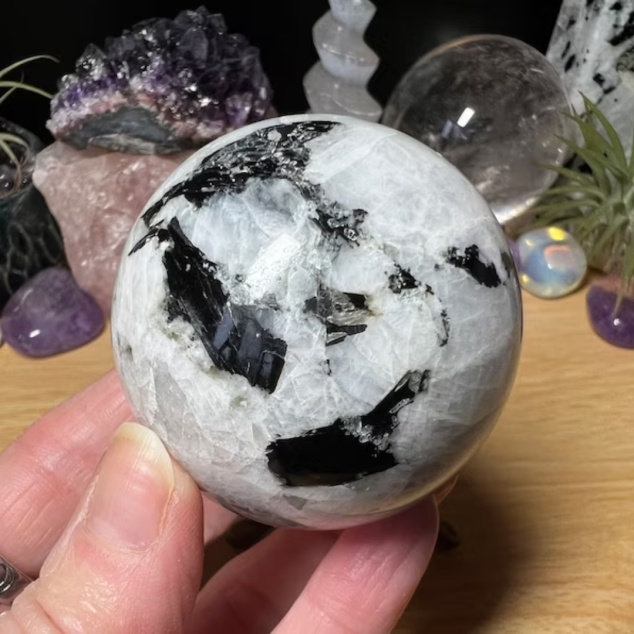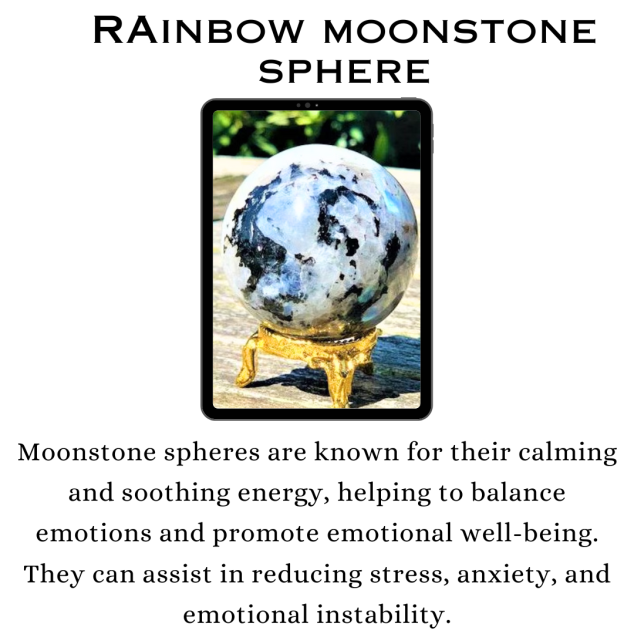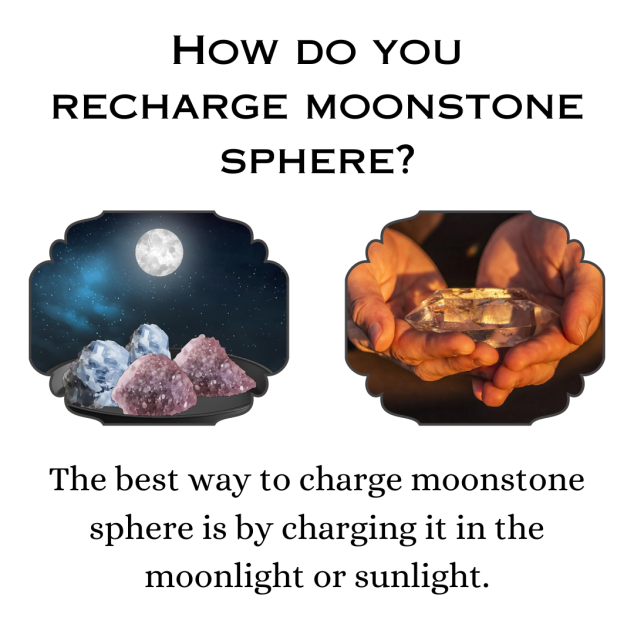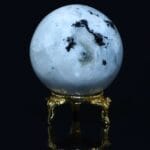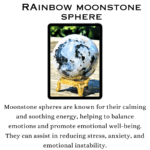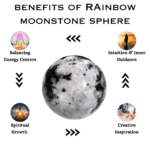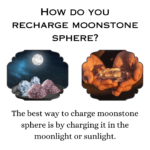 Rainbow Moonstone Sphere (Confidence and Self-Esteem)
66
people are viewing this right now

Guaranteed safe & secure checkout
Description
Rainbow Moonstone Sphere is a gemstone sphere made from a mineral called Rainbow Moonstone. It is a type of feldspar mineral that exhibits a unique optical phenomenon called adularescence, which is a milky-white to bluish-white sheen that appears to move across the stone's surface as it is rotated. This effect is caused by the diffraction of light as it passes through the stone's layers of feldspar.
Rainbow Moonstone is typically a pale gray or white color with iridescent flashes of blue, purple, and sometimes yellow or pink. The stone is often cut and polished into round spheres to showcase its natural beauty and optical phenomenon.
Moonstone Sphere is known for its metaphysical properties and is believed to have several benefits, including enhancing intuition and spiritual awareness, promoting emotional balance and healing, and providing protection during travel. It is also considered a stone of new beginnings and is often used in meditation and spiritual practices to help bring about positive change and growth.
Benefit of Rainbow Moonstone Sphere
Enhancing intuition: Rainbow Moonstone Sphere is thought to enhance intuition and psychic abilities, helping to connect with one's inner self and spiritual guidance.

Promoting emotional balance: Moonstone Sphere is believed to help soothe and balance emotions, promoting emotional healing and inner peace.

Providing protection: Moonstone Sphere is thought to provide protection during travel and in daily life, helping to ward off negative energies and psychic attacks.

Encouraging new beginnings: Moonstone Sphere is considered a stone of new beginnings, helping to bring about positive change and growth in one's life.

Stimulating creativity: Moonstone Sphere is believed to stimulate creativity and inspiration, making it an ideal stone for artists and writers.

Balancing energy: Moonstone Sphere is thought to balance the yin and yang energies within the body, promoting overall harmony and balance.

Supporting reproductive health: Moonstone Sphere is believed to support reproductive health and fertility, making it a useful stone for those seeking to conceive or experiencing reproductive issues.
Overall, Moonstone Sphere is a versatile and powerful stone that can provide a range of physical, emotional, and spiritual benefits.
How to Use Rainbow Moonstone Sphere
Meditation: Hold the Rainbow Moonstone Sphere in your hand or place it in front of you during meditation. Focus on the stone's energy and allow it to help you connect with your inner self and enhance your intuition.

Energy healing: Moonstone Sphere can be used in energy healing sessions to promote healing and balance in the body. Place the sphere on or near the area of the body that needs healing, or hold it in your hand while visualizing the energy flowing through your body.

Home decor: Moonstone Sphere can be used as a beautiful and energizing decoration in your home or workspace. Place it on a shelf or table where you can see and appreciate its beauty.

Crystal grids: Moonstone Sphere can be used in crystal grids to enhance the energy and properties of other stones in the grid. Place the sphere in the center of the grid and arrange other stones around it.

Personal empowerment: Carry a Moonstone Sphere with you throughout the day to help protect you from negative energies and promote self-confidence and empowerment.
Remember to cleanse and recharge your Moonstone Sphere regularly to keep its energy clear and strong. You can do this by running it under cold water or leaving it in sunlight or moonlight for several hours.
Return/Refund Policy
Our return policy lasts for 5 days from the date of delivery. Kindly contact us for any return/refund/exchange within 5 days from the date of delivery.
Return policy is applicable in case of damaged/defective items only.
Item must be unused & packed in original packaging.
Item will be inspected before processing the refund/exchange.
To initiate your return & exchange please send us an email at support@crystaldivine.in with your order receipt and details of the products to be returned. Please also let us know the reason for the return. Your complaints will only be taken into consideration if contacted by email. (WhatsApp / Phone Calls etc. will not be considered as complaint channels).
Upon receiving the returned products, prepaid orders will be refunded as soon as our inspection team approves the return.
COD orders: Customers will be required to provide their bank details where they would like to receive the refund.
Click to Learn more about our return and exchange policy.
Shipping Policy
We aim to dispatch all orders within 24-48 hours. In case of missing items/ unavailability or delay, we will inform you via email or WhatsApp with the expected date of dispatch.
Most orders are delivered by our courier partners within 5-7 working days from the date of dispatch.
Shipping is free on paid orders above ₹1000.
There are no question found.