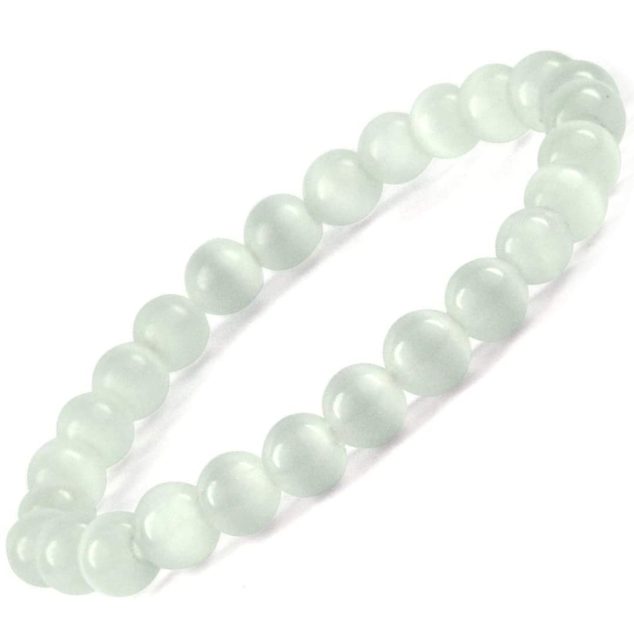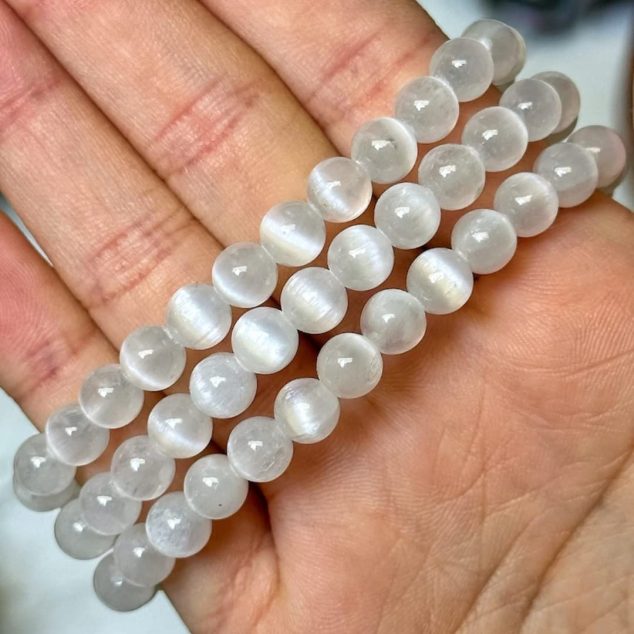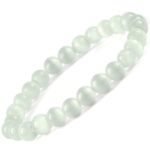 80
people are viewing this right now

Guaranteed safe & secure checkout
Description
The Selenite bracelet is a beautiful and potent accessory known for its cleansing and healing properties. Made from Selenite, a transparent or translucent crystal, this bracelet is often admired for its pearly luster that radiates a soft, warm glow, reminiscent of moonlight.
Believed to be a powerful talisman for protection, clarity, and energy cleansing, the Selenite bracelet is a sought-after item for those on a spiritual journey or anyone seeking a boost in intuition and mental clarity. Its simple yet elegant aesthetic makes it a versatile accessory, seamlessly blending with any outfit while providing spiritual benefits.


Benefits Of Selenite Bracelet
The Selenite bracelet is revered for its numerous beneficial properties:
Spiritual Cleansing and Purification: Selenite is believed to cleanse and purify the energy of your body and surroundings. It helps in clearing away negative energy and promotes a peaceful and harmonious environment.

Boosts Clarity of Mind: This crystal is thought to enhance mental clarity, focus, and sharpness. It can aid in decision-making and problem-solving by providing clarity and insight into complex situations.

Emotional Balance: Selenite is said to promote emotional balance and tranquility. It can assist in dispelling worries, anxieties, and bringing a sense of peace.

Enhances Intuition and Spirituality: Selenite is often used for meditation and spiritual practices. It's believed to open and activate the crown chakra, enhancing intuition and connection with higher spiritual realms.

Protection: Selenite is also known as a protective stone that shields against negative energies. People often wear Selenite bracelets to create a protective aura around themselves.
How To Use Selenite Bracelet?
Using a Selenite bracelet is pretty straightforward. Here are some simple steps you can follow:
Wearing: Simply put it on your left wrist, which is often considered the receptive side of the body. This allows you to absorb the crystal's energy effectively.

Meditation: You can hold the Selenite bracelet in your hand while meditating to enhance your meditation practice. The calming energy of Selenite can help you focus and enter a deeper state of meditation.

Balancing Energy: You can wear the Selenite bracelet throughout the day to benefit from its calming and balancing energy. It can help maintain a peaceful and harmonious vibe in your personal energy field.

Cleansing: It is recommended to cleanse your Selenite bracelet under moonlight rather than water, as Selenite is a soft mineral and can be damaged if exposed to water.

Intention Setting: Hold the Selenite bracelet in your hands, close your eyes, and set a positive intention or affirmation. This can make the bracelet more personalized and enhance its benefits for you.
Remember, it's important to listen to your intuition when it comes to using crystals. If a different method feels right for you, go with that.
Return/Refund Policy
Our return policy lasts for 5 days from the date of delivery. Kindly contact us for any return/refund/exchange within 5 days from the date of delivery.
Return policy is applicable in case of damaged/defective items only.
Item must be unused & packed in original packaging.
Item will be inspected before processing the refund/exchange.
To initiate your return & exchange please send us an email at support@crystaldivine.in with your order receipt and details of the products to be returned. Please also let us know the reason for the return. Your complaints will only be taken into consideration if contacted by email. (WhatsApp / Phone Calls etc. will not be considered as complaint channels).
Upon receiving the returned products, prepaid orders will be refunded as soon as our inspection team approves the return.
COD orders: Customers will be required to provide their bank details where they would like to receive the refund.
Click to Learn more about our return and exchange policy.
Shipping Policy
We aim to dispatch all orders within 24-48 hours. In case of missing items/ unavailability or delay, we will inform you via email or WhatsApp with the expected date of dispatch.
Most orders are delivered by our courier partners within 5-7 working days from the date of dispatch.
Shipping is free on paid orders above ₹1000.
There are no question found.