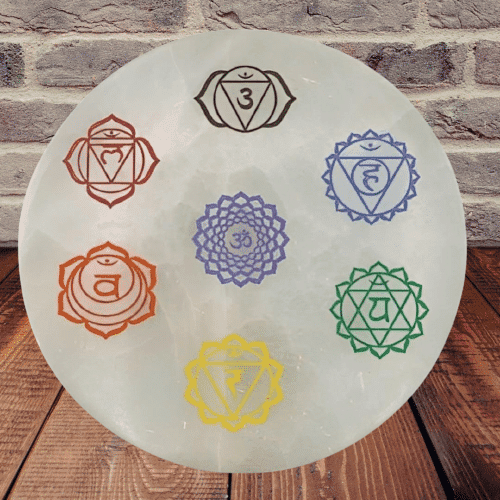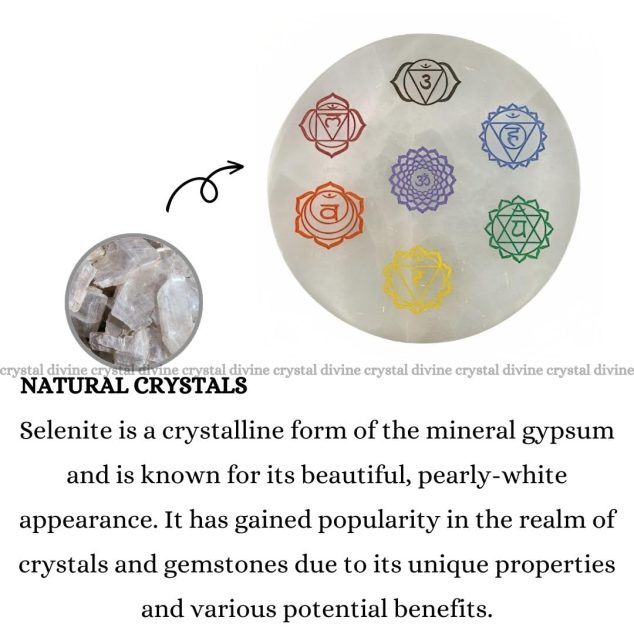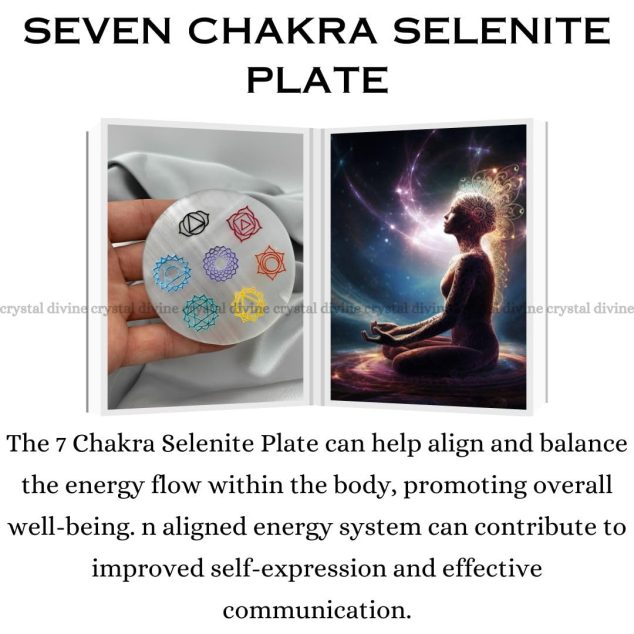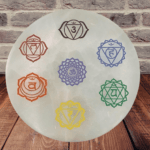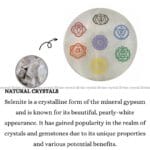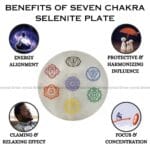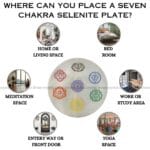 7 Chakra Selenite Charging Plate
84
people are viewing this right now

Guaranteed safe & secure checkout
Description
7 Chakra Selenite Charging Plate
This unique selenite charging plate, engraved with 7 chakra symbols in their respective colors, is a must-have for crystal enthusiasts. Simple yet profound, it harmoniously fuses aesthetics with spiritual resonance, ensuring your crystals remain energetically vibrant. A blend of elegance and function, it's the perfect addition to any space.
Benefits of the 7 Chakra Symbol engraved Selenite Charging Plate
Deep Cleansing: Selenite is known for its powerful cleansing abilities. When you place your crystals on this plate, it helps clear away any negative vibes, making your crystals feel fresh and new.

Charging with Positive Vibes: Just like we recharge our phones, crystals need charging too. This plate does that by filling your crystals with positive energy, so they're always ready to help you.

Balancing Your Energy: The seven chakra symbols on the plate match our body's seven energy points. This means the plate helps keep our body's energy balanced and flowing smoothly.

Feeling More Connected: This plate can help you feel more in touch with yourself and the world around you. It's like having a little helper for your spiritual journey.

Looks Beautiful: Not only is it useful, but it's also pretty! The bright chakra colors against the soft glow of the selenite make it a great piece for any room.

Multipurpose: While it's awesome for your crystals, you can also use it during meditation or even as a decorative piece.

Relax and Unwind: Feeling stressed? Just spending some time with this plate can help you feel more calm and at peace.

Better Meditation: If you meditate, having this plate nearby can make your sessions feel even deeper and more focused.
In short, this unique selenite plate, with its colorful chakra symbols, offers a simple way to cleanse and charge your crystals, making both them and you feel rejuvenated.
How to Use the 7 Chakra Selenite Charging Plate?

Placement: Find a calm, peaceful spot in your home, preferably a space you frequent or a place dedicated to relaxation and meditation. Place your selenite charging plate there. Having it on a wooden or natural surface is ideal, but it's flexible based on your preferences.

Cleanse Your Plate: Before the first use, you might want to cleanse your plate to ensure it's free from any previous energies. This can be done by placing it under the moonlight overnight, especially during a full moon, or by surrounding it with a ring of salt for a few hours.

Charging Crystals: Whenever you feel your crystals need a boost of energy or cleansing, place them on the selenite plate. Let them rest there for a few hours or overnight. The combination of selenite and the chakra symbols will charge and cleanse them.

Meditation Aid: During your meditation sessions, place the plate on your lap or in front of you. Focus on the chakra symbols and let them guide your meditation, helping you balance and align your energies.

Energizing Personal Items: Apart from crystals, you can place your jewelry, tarot cards, or any personal items on the plate to cleanse and infuse them with positive energy.

Visual Aid for Chakra Work: If you're working on balancing a specific chakra or learning about them, the engraved symbols serve as a great reference point. Focus on each symbol while meditating or studying about that particular chakra.

Refreshing Your Space: Every few days or when you feel the need, move the plate around your home, especially in areas where you want to refresh the energy. The presence of the plate can uplift and harmonize the energies in that space.

Maintenance: Keep your plate clean by wiping it gently with a soft cloth. Avoid using water as selenite is water-soluble and might degrade over time if exposed to moisture.
Remember, intention is key. Whenever you're using the selenite charging plate, have a clear intention of what you're aiming to achieve, whether it's charging, cleansing, or simply bringing more balance to your space.
Return/Refund Policy
Our return policy lasts for 5 days from the date of delivery. Kindly contact us for any return/refund/exchange within 5 days from the date of delivery.
Return policy is applicable in case of damaged/defective items only.
Item must be unused & packed in original packaging.
Item will be inspected before processing the refund/exchange.
To initiate your return & exchange please send us an email at support@crystaldivine.in with your order receipt and details of the products to be returned. Please also let us know the reason for the return. Your complaints will only be taken into consideration if contacted by email. (WhatsApp / Phone Calls etc. will not be considered as complaint channels).
Upon receiving the returned products, prepaid orders will be refunded as soon as our inspection team approves the return.
COD orders: Customers will be required to provide their bank details where they would like to receive the refund.
Click to Learn more about our return and exchange policy.
Shipping Policy
We aim to dispatch all orders within 24-48 hours. In case of missing items/ unavailability or delay, we will inform you via email or WhatsApp with the expected date of dispatch.
Most orders are delivered by our courier partners within 5-7 working days from the date of dispatch.
Shipping is free on paid orders above ₹1000.
There are no question found.