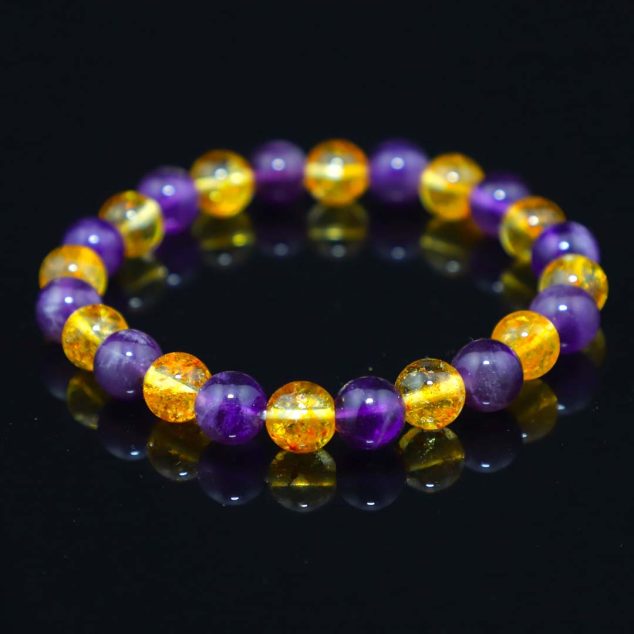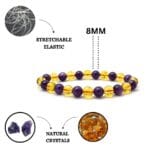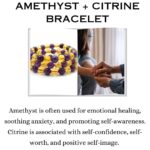 Amethyst + Citrine Bracelet
90
people are viewing this right now

Guaranteed safe & secure checkout
Description
Amethyst + Citrine Bracelet
The Amethyst + Citrine Bracelet is a combination of two powerful crystals, beautifully strung together in a repeating pattern. This attractive piece of jewelry is not only visually appealing but also brings together the unique properties of both crystals to provide a balanced energy to the wearer.
Amethyst, known as the 'Stone of Spirituality and Contentment', has a calming and soothing vibe. It's widely appreciated for its ability to stimulate and soothe the mind and emotions. It aids in enhancing spiritual awareness and promoting a higher state of consciousness.
Citrine, often called 'The Merchant's Stone', is famous for its ability to manifest abundance and prosperity. It's a crystal of light and happiness, bringing bright energy to light up many aspects of life.
When combined, these stones offer a powerful blend of peace, positivity, prosperity, and spiritual enlightenment, making the Amethyst + Citrine bracelet a unique piece for anyone seeking balance and growth in their life.


Benefits Of Amethyst + Citrine Bracelet

The Amethyst + Citrine Bracelet brings numerous benefits to the wearer. Here are some of them:
Balances Emotions: Amethyst is known for its soothing properties, helping to balance emotions and calm the mind. It can be particularly beneficial during stressful times.

Brings Positivity and Happiness: Citrine is known as the stone of happiness and positivity. Wearing this bracelet can help to bring joy and positive energy into your life.

Aids in Manifestation: Known as the merchant's stone, Citrine is believed to help in manifesting abundance and prosperity. It can be a useful aid for those working on setting and achieving goals.

Boosts Spiritual Growth: Amethyst has a high spiritual vibration, aiding in the development of intuition and spiritual knowledge. This can help you on your journey towards spiritual growth.

Promotes Better Sleep: Amethyst is often used to help with insomnia and promoting healthy sleep patterns.

Supports Creativity: Citrine is known to stimulate the brain, strengthening the intellect and promoting creativity.
Together, the Amethyst and Citrine Bracelet can offer a balanced and powerful energy boost, supporting your emotional wellbeing, spiritual growth, and success.


How To Use
Amethyst + Citrine

Bracelet?

Using an Amethyst + Citrine Bracelet is simple and easy, allowing you to incorporate it into your daily routine. Here's a guide on how to use it:
Cleansing: Before you start using the bracelet, cleanse it to get rid of any previous energies. You can cleanse it by holding it under running water, leaving it in sunlight or moonlight, or using a sage smudging stick.

Setting Your Intention: Hold the bracelet in your hands, close your eyes, and focus on what you want to achieve. Do you want to attract more positivity? Do you wish to improve your emotional balance? Or maybe you're seeking spiritual growth? Set a clear intention in your mind.

Wearing the Bracelet: Wear the bracelet on your left hand, the receptive side of your body, to absorb the positive energies of Amethyst and Citrine.

Daily Meditation: Spend a few minutes each day holding your bracelet and revisiting your intention. This daily meditation can help you stay focused on your goals and attract the outcomes you desire.

Regular Cleansing: Remember to cleanse your bracelet regularly to keep its energies pure and potent.
By following these steps, you can maximize the potential benefits of your Amethyst + Citrine Bracelet. Enjoy the journey of personal growth and transformation that this unique bracelet can support.
Return/Refund Policy
Our return policy lasts for 5 days from the date of delivery. Kindly contact us for any return/refund/exchange within 5 days from the date of delivery.
Return policy is applicable in case of damaged/defective items only.
Item must be unused & packed in original packaging.
Item will be inspected before processing the refund/exchange.
To initiate your return & exchange please send us an email at support@crystaldivine.in with your order receipt and details of the products to be returned. Please also let us know the reason for the return. Your complaints will only be taken into consideration if contacted by email. (WhatsApp / Phone Calls etc. will not be considered as complaint channels).
Upon receiving the returned products, prepaid orders will be refunded as soon as our inspection team approves the return.
COD orders: Customers will be required to provide their bank details where they would like to receive the refund.
Click to Learn more about our return and exchange policy.
Shipping Policy
We aim to dispatch all orders within 24-48 hours. In case of missing items/ unavailability or delay, we will inform you via email or WhatsApp with the expected date of dispatch.
Most orders are delivered by our courier partners within 5-7 working days from the date of dispatch.
Shipping is free on paid orders above ₹1000.
There are no question found.