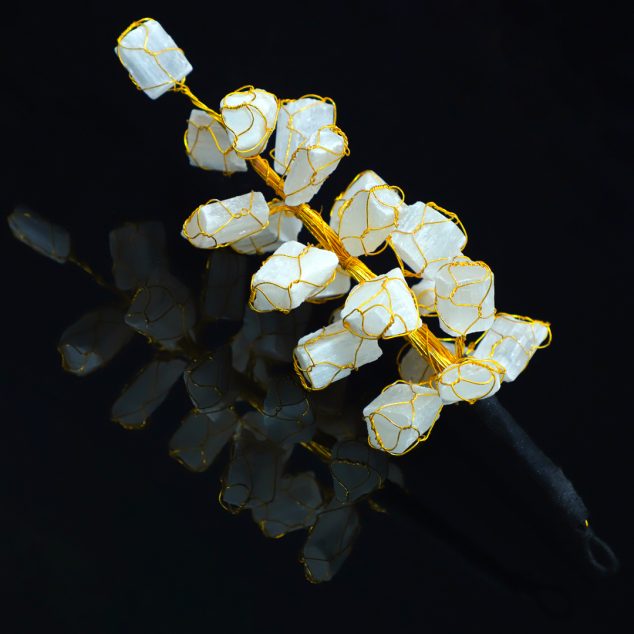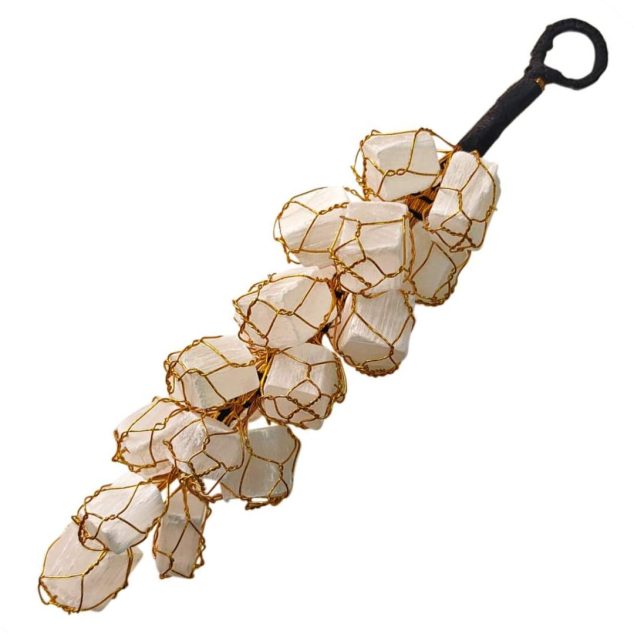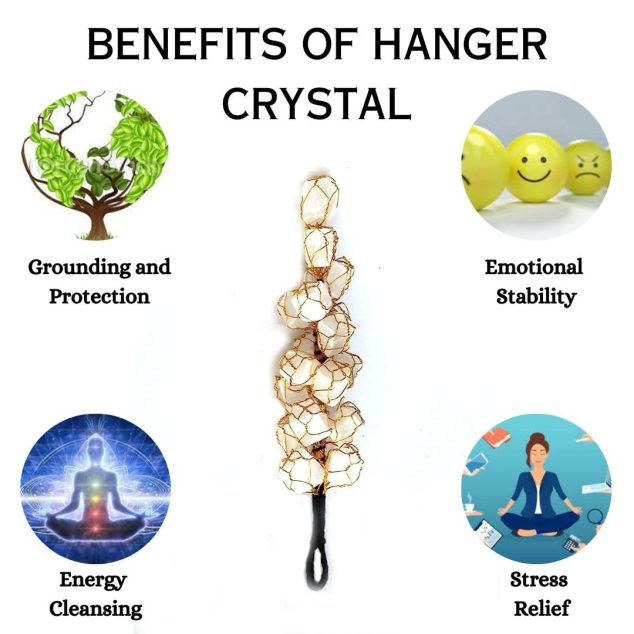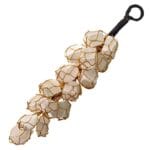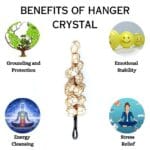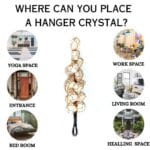 72
people are viewing this right now

Guaranteed safe & secure checkout
Description
Step into the world of ethereal glow and pristine energy with our Selenite Door Hanging. Elegantly crafted, this piece is more than just an adornment for your home—it's a beacon of tranquility. Selenite, often termed as 'liquid light', not only exudes an angelic luminescence but also brings forth a serene atmosphere. When placed as a door hanging, this captivating crystal acts as a guardian of peace, welcoming positive energies while keeping discord at bay. Perfect for those seeking a harmonious ambiance in their living spaces, our Selenite Door Hanging serves as a gentle reminder of the calm amidst the chaos. Embrace the elegance and purity of this ethereal crystal, and let it guide your home into an oasis of serenity.
Benefits Of Selenite Door Hanging:
Ambient Glow: Selenite's natural luminescence provides a soft and ambient glow, creating a soothing and welcoming atmosphere in any space.

Energetic Cleanser: Known for its purification properties, selenite helps in clearing negative energies, ensuring that your home remains a sanctuary of positive vibes.

Peace & Tranquility: Selenite has a calming effect, promoting a peaceful environment. Its presence as a door hanging ensures that serenity greets everyone who enters.

Protection: As a door hanging, selenite acts as a protective shield, warding off external negative influences or energies from entering your home.

Enhanced Intuition: Many believe selenite heightens intuition. Having it near your entrance means you're in tune with your intuitive feelings as you come and go.

Charging Space: Selenite can also act as a charger for other crystals. Being in its vicinity can subtly cleanse and charge other crystal-based decors or jewelry.
Integrating a Selenite Door Hanging into your home not only elevates the aesthetic appeal but also enhances the overall energy, making your living space a beacon of peace, protection, and positivity.


How To Use Selenite Door Hanging?
Placement: Hang the selenite door decoration on or near the main entrance of your home or room. This location ensures it serves as a guardian of energy, cleansing everyone who enters.

Intention Setting: Before hanging, take a moment to set your intentions with the selenite. Hold it in your hands, close your eyes, and mentally convey what you wish for it to achieve in your space, whether it's protection, peace, or any other desire.

Avoid Water: Selenite is water-soluble. Ensure your hanging doesn't come in contact with rain or moisture. If placed near an entrance that might get wet, make sure it's protected from direct exposure.

Cleansing: Even though selenite is self-cleansing, occasionally cleanse the space around it using sound (like a bell or singing bowl) or by smudging with sage. This ensures the energies remain vibrant.

Complementary Elements: If you're spiritually inclined, consider accompanying the selenite hanging with other protective elements like salt or black tourmaline near the door, further amplifying its protective capabilities.

Mindful Observation: Every so often, take a moment to observe and appreciate your selenite hanging. Acknowledge its beauty and the peace it brings, strengthening your connection to its energy.

Rotation: While selenite loves to absorb and transmute energy, it can be beneficial to let it rest occasionally. Consider having an alternative decor piece that you can swap out every few months, giving your selenite time to rejuvenate.
By following these steps, you can ensure that your Selenite Door Hanging serves its purpose effectively while also staying in top condition, bringing a sense of tranquility and protection to your space.
Return/Refund Policy
Our return policy lasts for 5 days from the date of delivery. Kindly contact us for any return/refund/exchange within 5 days from the date of delivery.
Return policy is applicable in case of damaged/defective items only.
Item must be unused & packed in original packaging.
Item will be inspected before processing the refund/exchange.
To initiate your return & exchange please send us an email at support@crystaldivine.in with your order receipt and details of the products to be returned. Please also let us know the reason for the return. Your complaints will only be taken into consideration if contacted by email. (WhatsApp / Phone Calls etc. will not be considered as complaint channels).
Upon receiving the returned products, prepaid orders will be refunded as soon as our inspection team approves the return.
COD orders: Customers will be required to provide their bank details where they would like to receive the refund.
Click to Learn more about our return and exchange policy.
Shipping Policy
We aim to dispatch all orders within 24-48 hours. In case of missing items/ unavailability or delay, we will inform you via email or WhatsApp with the expected date of dispatch.
Most orders are delivered by our courier partners within 5-7 working days from the date of dispatch.
Shipping is free on paid orders above ₹1000.
There are no question found.