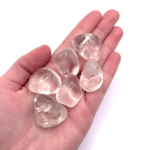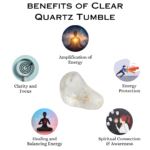 Clear Quartz Tumble Stone
55
people are viewing this right now

Guaranteed safe & secure checkout
Description
Clear Quartz Tumble Stone
The Clear Quartz Tumble Stone is a beautiful and versatile crystal known for its clarity and pure energy. Often called the "Master Healer", this transparent crystal is unique due to its ability to amplify energy and thought.
Its clean and clear appearance matches its energy – pure, bright, and illuminating. In a tumbled form, this stone carries a soft energy yet retains all its powerful characteristics. The smooth and rounded edges make it ideal for carrying with you throughout the day, whether in your pocket or purse. It's the perfect crystal for those who want to cleanse their energy, enhance their focus, and amplify their intentions.


Benefits Of Clear Quartz Tumble Stone
The Clear Quartz Tumble Stone offers a multitude of benefits. Here are some of them:

Energy Amplification: Clear quartz is well-known for its ability to amplify energy. It can enhance the energy of other stones and intensify your intentions.
Clarity and Focus: This crystal helps to clear your mind, improving focus and aiding clear thinking. It's an excellent stone for studying, brainstorming, and problem-solving.
Cleansing: Clear Quartz is a powerful cleansing stone. It's believed to clear away negative energy and restore balance in your surroundings and within yourself.
Enhanced Intuition: Users often find their intuition heightened, helping them make better decisions and navigate situations more effectively.
Healing: Known as the "Master Healer," clear quartz is used to support and enhance healing on all levels – physical, emotional, and spiritual.
Remember, while clear quartz offers many potential benefits, the experience can be different for everyone. How you connect with this stone will be unique to you. Use it in ways that feel right for you, and observe how its energy works in your life.
How To Use Clear Quartz Tumble Stone?

Using a Clear Quartz Tumble Stone is quite simple and can be adapted to suit your needs. Here are some suggestions:
1. Carry It With You: Because of their small size, tumble stones are perfect to carry around in your pocket or purse. Whenever you need a boost of energy or clarity, you can hold the stone in your hand for a few moments.
2. Meditation: Incorporate the Clear Quartz Tumble Stone in your meditation practice. Hold it in your hand, set your intention, and let its energy amplify your meditation session.
3. Energy Grids: Clear Quartz is known for its energy amplification properties. It can be used in combination with other stones to form an energy grid, enhancing the power of the entire arrangement.
4. Decor: You can also use the stone as a part of your home decor. Place it in a location where you spend a lot of time, so you can benefit from its energy regularly.
5. Healing Sessions: If you're into energy healing, you can use the Clear Quartz Tumble Stone during your healing sessions.
Before starting to use your Clear Quartz Tumble Stone, remember to cleanse it to clear any prior energy it may have accumulated. You can do this by placing it under moonlight, burying it in the earth, or using a cleansing crystal like Selenite. Once cleansed, the st
Return/Refund Policy
Our return policy lasts for 5 days from the date of delivery. Kindly contact us for any return/refund/exchange within 5 days from the date of delivery.
Return policy is applicable in case of damaged/defective items only.
Item must be unused & packed in original packaging.
Item will be inspected before processing the refund/exchange.
To initiate your return & exchange please send us an email at support@crystaldivine.in with your order receipt and details of the products to be returned. Please also let us know the reason for the return. Your complaints will only be taken into consideration if contacted by email. (WhatsApp / Phone Calls etc. will not be considered as complaint channels).
Upon receiving the returned products, prepaid orders will be refunded as soon as our inspection team approves the return.
COD orders: Customers will be required to provide their bank details where they would like to receive the refund.
Click to Learn more about our return and exchange policy.
Shipping Policy
We aim to dispatch all orders within 24-48 hours. In case of missing items/ unavailability or delay, we will inform you via email or WhatsApp with the expected date of dispatch.
Most orders are delivered by our courier partners within 5-7 working days from the date of dispatch.
Shipping is free on paid orders above ₹1000.
There are no question found.