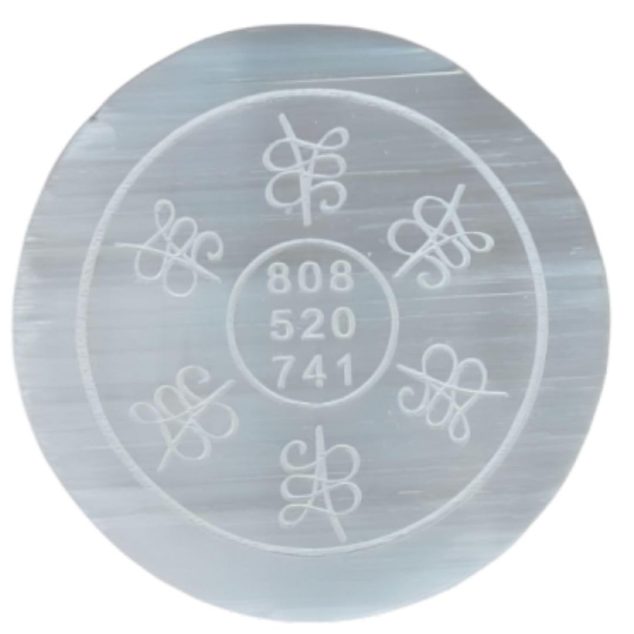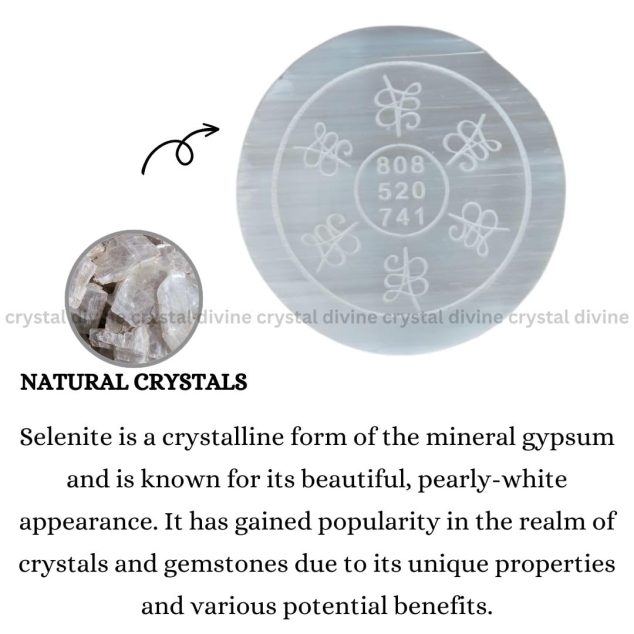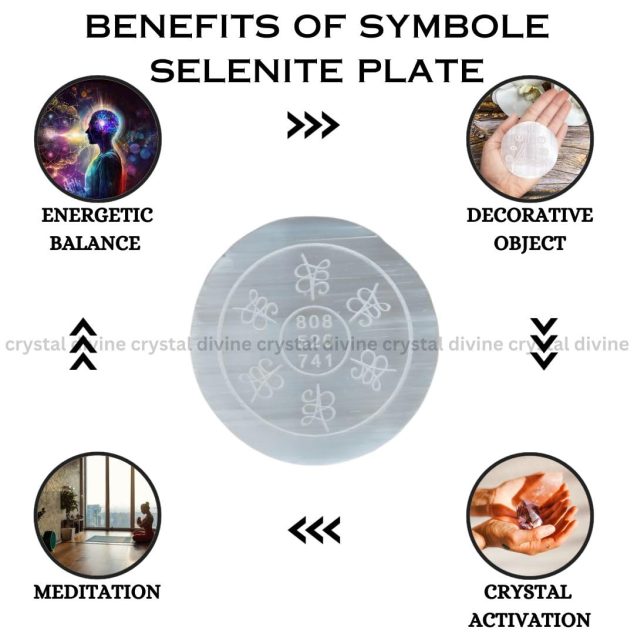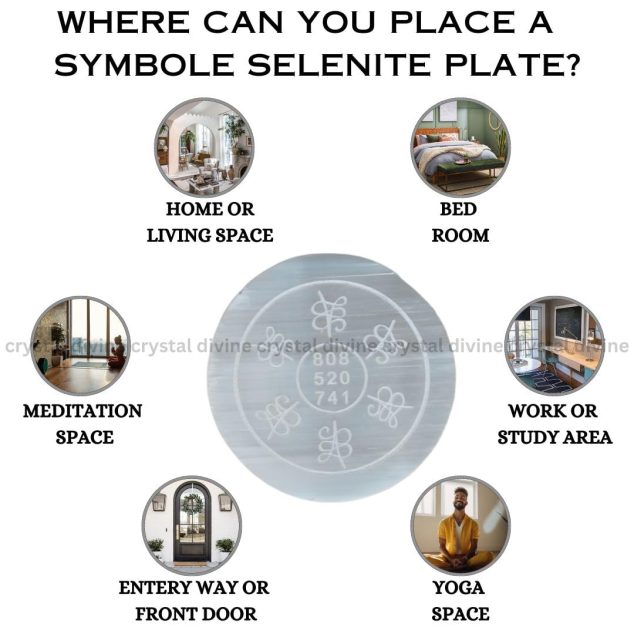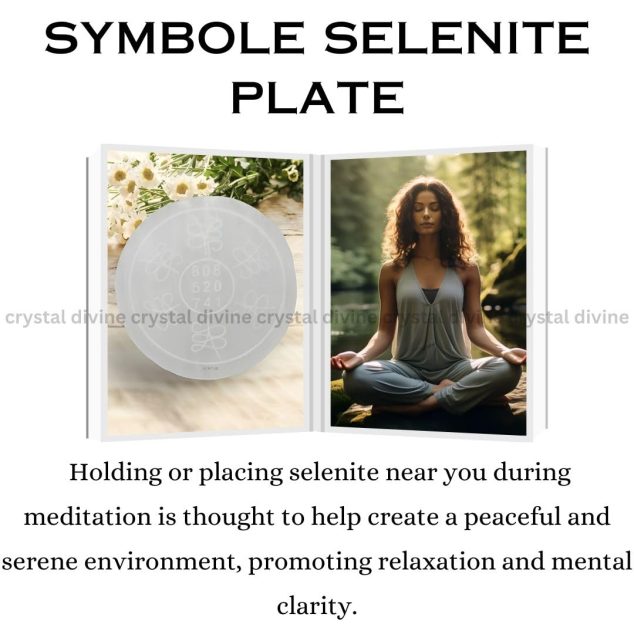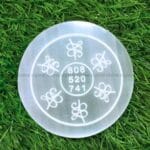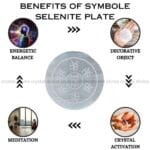 Zibu Symbol Selenite Charging Plate
88
people are viewing this right now

Guaranteed safe & secure checkout
Description
Zibu Symbol Selenite Charging Plate
Embrace the harmony of the Zibu symbols with the pure energy of selenite in this special charging plate. Zibu symbols, known as the language of the Angels, combined with selenite's cleansing properties, make this plate a unique tool for spiritual growth and healing. Perfect for those looking to infuse their daily life with a touch of divine energy and clarity. Whether you're familiar with Zibu or just starting on your spiritual journey, this plate promises to be a beautiful and powerful addition to your space.


Benefits Of Zibu Symbol Engraved Selenite Charging Plate
Divine Connection: Zibu symbols are considered the language of Angels. Having them on a selenite charging plate can help connect and enhance communication with higher realms and guardian angels.

Enhanced Energy Cleansing: Selenite is renowned for its cleansing and charging properties. Paired with Zibu symbols, it amplifies the removal of negative energies from your crystals or surroundings.

Empower Intentions: The intricate Zibu symbols can aid in setting and amplifying intentions, making manifestations more potent.

Aesthetic Appeal: The beautiful engraving of Zibu symbols on the selenite plate is not only spiritually beneficial but also a visually captivating piece of decor.

Balanced Energy Flow: The combination of selenite's properties and Zibu symbols helps in maintaining a balanced energy flow in one's environment, promoting peace and tranquillity.

Protection: Selenite acts as a shield, and with Zibu symbols engraved, it can ward off negative influences and entities.

Mental Clarity: The plate can assist in achieving mental clarity, aiding meditation and intuitive practices.
Incorporating the Zibu Symbol Engraved Selenite Charging Plate into your daily routine or spiritual practices can elevate your experiences, bringing about harmony, clarity, and divine connection.
How To Use Zibu Symbol Selenite Charging Plate?
Cleanse Your Space: Before introducing the Zibu Symbol Selenite Charging Plate into your environment, ensure your space is clean and free of clutter to promote positive energy flow.

Placement: Set the plate in an area where you often meditate, relax, or where you place your other crystals. This ensures a constant flow of cleansed and charged energy.

Charge Your Crystals: Place your crystals or jewelry on the selenite plate. Let them rest there for a few hours or overnight to benefit from the Zibu symbols and selenite's purifying properties.

Meditation and Intention Setting: While meditating, place the plate in front of you or hold it in your hands. Focus on the Zibu symbols and set your intentions. The selenite and symbols will amplify your intentions and help in grounding them.

Energy Amplification: If you're familiar with Reiki or any energy healing techniques, you can use the plate to amplify your healing sessions. Place it near the individual receiving the healing or under the healing table.

Daily Affirmations: Stand or sit by your Zibu Symbol Selenite Charging Plate when reciting your daily affirmations. The symbols can assist in imbuing your affirmations with divine energy, making them even more potent.

Sleep Enhancement: Consider placing the plate on your nightstand. The combined energies of the Zibu symbols and selenite can promote restful sleep and vivid, insightful dreams.

Clear Negative Energies: If you feel a space or object has absorbed negative energies, place the selenite plate near or on it. The plate will absorb and transform these energies, restoring balance.

Maintenance: Selenite is a soft mineral and should be kept away from water. To cleanse it, simply leave it under the moonlight or smudge it with sage or palo santo occasionally.
Remember, the Zibu Symbol Selenite Charging Plate serves as both a spiritual tool and a beautiful piece of décor. Trust your intuition when using it, and you'll discover the ways it best supports your personal and spiritual needs.
Return/Refund Policy
Our return policy lasts for 5 days from the date of delivery. Kindly contact us for any return/refund/exchange within 5 days from the date of delivery.
Return policy is applicable in case of damaged/defective items only.
Item must be unused & packed in original packaging.
Item will be inspected before processing the refund/exchange.
To initiate your return & exchange please send us an email at support@crystaldivine.in with your order receipt and details of the products to be returned. Please also let us know the reason for the return. Your complaints will only be taken into consideration if contacted by email. (WhatsApp / Phone Calls etc. will not be considered as complaint channels).
Upon receiving the returned products, prepaid orders will be refunded as soon as our inspection team approves the return.
COD orders: Customers will be required to provide their bank details where they would like to receive the refund.
Click to Learn more about our return and exchange policy.
Shipping Policy
We aim to dispatch all orders within 24-48 hours. In case of missing items/ unavailability or delay, we will inform you via email or WhatsApp with the expected date of dispatch.
Most orders are delivered by our courier partners within 5-7 working days from the date of dispatch.
Shipping is free on paid orders above ₹1000.
There are no question found.